Inaugural Robert Jordan Piano Festival to be held Feb. 23-25
The School of Music will host the inaugural Robert Jordan Piano Festival in February, named in memory of School of Music Professor Emeritus Robert Jordan.
The three-day event, slated for Feb. 23 through 25, will feature some of today's brightest piano artists, including Spencer Myer, Yi-Heng Yang and Shai Wosner.
The artists will be working in lessons with Fredonia piano students, giving public master classes and performances, and participating in a panel discussion.
All Robert Jordan Piano Festival events are free and open to the public, with support from the Robert Jordan Piano Scholarship and Distinguished Lectureship endowment established through the Fredonia College Foundation.
Professor Jordan was a piano faculty member at Fredonia from 1980 until 2004. He was the recipient of the SUNY Chancellor's Award for Excellence in Teaching in 1983, and was selected to present Fredonia's prestigious Robert Kasling Memorial Lecture in 1996. Professor Jordan earned his Bachelor of Music degree in 1962 from the Eastman School of Music of the University of Rochester, and master's degree from the Juilliard School of Music. He was awarded a Fulbright Grant to Germany in 1965, where he began his concert career, and performed on stages in the U.S. and around the world. In addition to Fredonia, Professor Jordan taught at Howard University, was a resident artist at Morgan State University, and held teaching/residence positions at the universities of Delaware and Michigan, among others.
About the Visiting Artists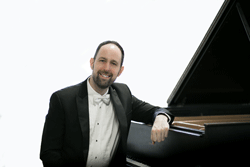 Lauded for "superb playing" and "poised, alert musicianship" by the Boston Globe, and labeled "definitely a man to watch" by London's The Independent, U.S. pianist Spencer Myer is considered to be one of the most respected and sought-after artists. Adding to his North American credentials, Mr. Myer includes in his current season returns to the Boise and Northeastern Pennsylvania Philharmonics and Traverse Symphony Orchestra. His solo recitals and chamber music collaborations take him throughout the U.S., and he continues as half of the Daurov/Myer Duo, having teamed up with the award-winning cellist Adrian Daurov in 2012. Of special note is an appearance with Jamie Bernstein at Washington, D.C.'s National Museum of Women in the Arts for a special performance of Leonard Bernstein's Anniversaries.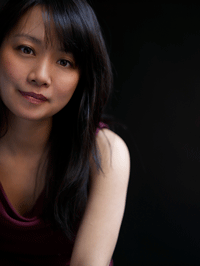 Pianist Yi-heng Yang was born in Iowa City, Iowa. Awards she has received include the Harvey Fellowship from the Mustard Seed Foundation, a Huygens Grant from the Dutch Ministry of Culture, the Helen Fay Prize in Piano at Juilliard and the Susan W. Rose piano grant. She has given piano, fortepiano, and harpsichord performances at the Boston Early Music Festival, the Forte/Piano Conference at the Westfield Center, the Conference of the American Musicological Society, the Finger Lakes Chamber Music Festival, the Metropolitan Museum of Art, Friends of Mozart, MusicIC, the Midtown Series at St. Bart's Church in New York City, Music Matters, Serenata of Santa Fe, Sunday Chatter, Apple Hill Chamber Music Festival, the Cobbe Collection at Hatchlands, the Finchcocks Collection, and the Frederick Collection. She has participated in chamber music collaborations with the Sebastians, Gretchen's Muse, and Trio Pasqualati. She has been artistic director of ChamberFest at the Frederick Collection of Historical Pianos and has served as a faculty member at the Apple Hill Center for Chamber Music. She has recorded the Complete Mendelssohn Violin Sonatas on period instruments with Abigail Karr and 18th-century harpsichord and fortepiano duos with Rebecca Cypess. She won the Juilliard School Concerto Competition, the Haddonfield Concerto Competition, and the Amsterdam Virtuosi Square Piano Competition. Yang received her bachelor's, master's, and doctoral degrees from Juilliard. She studied piano with Yoheved Kaplinsky, Julian Martin, and Robert McDonald. She studied fortepiano with Audrey Axinn and Stanley Hoogland and harpsichord and clavichord with Menno van Delft. Yang received her master's summa cum laude from Amsterdam Conservatory.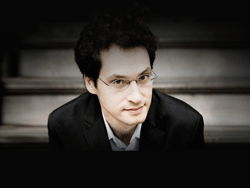 Pianist Shai Wosner has attracted international recognition for his exceptional artistry, musical integrity, and creative insight. His performances of a broad range of repertoire —from Beethoven and Schubert to Ligeti and contemporary music — reflect what is called a degree of virtuosity and intellectual curiosity that has made him a favorite among audiences and critics, who note his "keen musical mind and deep musical soul" (NPR's All Things Considered). Mr. Wosner's penchant for eclectic pairings of diverse repertoire is on full display this October, when he performs Mozart's Piano Concerto No. 14 in E flat major alongside the world premiere of Christopher Cerrone's new piano concerto "Dissolving Margins" on tour with the East Coast Chamber Orchestra in Memphis, Philadelphia and New York. The new concerto for piano and strings was inspired by the writings of Elena Ferrante and takes its title from her Neapolitan novels. The work was co-commissioned for Mr. Wosner by the 92nd Street Y— which presents the New York premiere — and the Albany and Phoenix symphonies, with which Mr. Wosner performs the concerto in March. On the program in Phoenix, he also performs Beethoven's Piano Concerto No. 3 in C minor, and additional orchestral highlights of his season include performances of Mozart's Piano Concerto No. 21 in C major with the Sarasota Orchestra and Mozart's Piano Concerto No. 14 in E flat major and Szymanowski's Symphony No. 4 for piano and orchestra with the Hamburg Symphony.