Kings of the Castleton
Fredonia State won the 2019 Castleton University Invitational with a double-overtime win Saturday over Nazareth at Spartan Arena.
The game ended tied 5-5 after regulation and a five-minute five-on-five overtime. Playing a second three-on-three overtime in as many days, Blue Devil junior right wing and Sport Management major Victor Tracy banged home a rebound midway through the extra session to give the Blue Devils the tournament title.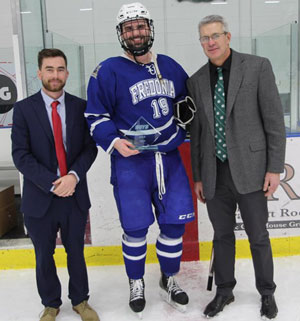 Tracy also had two assists during regulation and was named Castleton Invitational M.V.P. Jacob Haynes and Anton Rosen joined Tracy on the all-tournament team. Haynes had one goal and two assists in Saturday's game while Rosen made 26 saves to go along with 28 saves and his first collegiate shutout in Friday's 0-0 tie with No. 15 ranked Curry.

"We came to Vermont this weekend to turn our season around," Fredonia State Head Coach Jeff Meredith said. "Even though both of our games were classified as ties, we won two games and a championship. We grew as a group this week."

The Blue Devils took little time to take the upper hand in Saturday's championship game, scoring two goals in 30 seconds, the first at 1:05 by Josh Biasillo, followed by Haynes at 1:35 of the first period. Malcom Arseneau made it 3-0 at the 12:48 mark before Nazareth scored two goals in 10 seconds late in the first period and the Blue Devils took a 3-2 into the first intermission.
Matt Letmanski's first collegiate goal, at 12:31 of the second period, built a 4-2 Fredonia State lead after two periods. Nazareth scored three unanswered goals in the third period, the last two just 18 seconds apart, to take a 5-4 lead. Charlie Manley's third power-play goal of the season, and his fourth overall, forged a 5-5 tie at 16:41 of the third period.
The Blue Devils outshot the Golden Flyers, 41-31, through regulation and the first official overtime. Both weekend games are recorded as ties, leaving the Blue Devils with a 1-5-3 record. Next up is a return to SUNYAC hockey with homes games Dec. 6 vs. Cortland and Dec. 7 vs. Cortland.

It was the second straight season the Blue Devils traveled to New England during Thanksgiving weekend to claim an in-season tournament title. They won the 2018 Manchester PAL/Stovepipe Tournament at Hooksett, N.H.