Narrative installation 'Lost in the Woods' taps into art, writing students' talents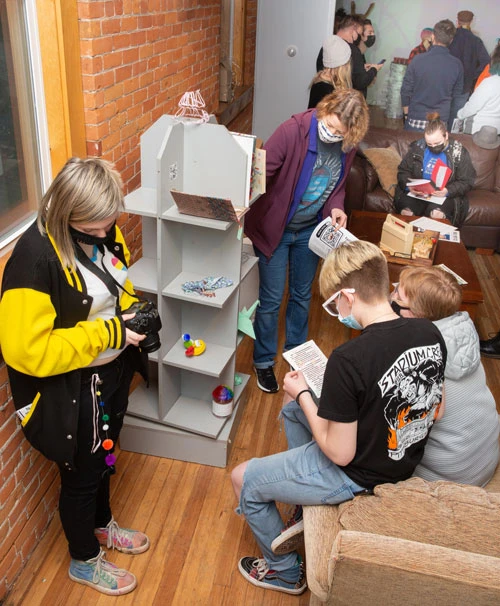 A steady flow of students and other visitors toured an interdisciplinary immersive narrative installation, created by SUNY Fredonia students enrolled in writing and art courses, at The Art Market, a Main Street storefront in Fredonia, on an unusually warm December afternoon.
The collaborative effort by students in WRTG 365 Form and Theory of Writing and ARTS 340/440 3D Methods and Materials spawned loosely-tied together narratives that combined writing and sculpture. Students developed the storylines and created sculptures and other visual illustrations.
Various stations that included a small tent were spread throughout the downtown gallery to convey the stories. The Art Market is part of Main Street Studios, a downtown performing and visual arts facility owned and operated by Department of Theatre and Dance Professor Ted Sharon.
"Anyone, as they come in, passes through a series of stories," explained Department of English Assistant Professor Michael Sheehan. Along the way they encounter creatures – such as a unicorn in the front window and a beautifully crafted paper mâché witch – related to one of the stories. "It's kind of like a narrative that flows through the space," Mr. Sheehan noted, through the use of words and objects.
There were essentially three narratives: about a woman, Lilly, who lives in a mythical woods surrounded by strange creatures; two brothers who get sucked into a video game, which causes their mother great distress; and the character Juniper, who possesses some sort of telekinetic ability to connect with the brothers inside the video game and is able to bridge the two storylines.
Students in their respective classes worked in groups that took ownership of a narrative, and also met together across the two classes to share ideas, Sheehan noted. For example, one student wrote a diary of one of the characters, while another student created companion illustrations.
"The collaboration was really fun in that students kind of went back and forth," Department of Visual Arts and New Media Associate Professor Peter Tucker said. Students in Sheehan's class came up with prompts and that led Mr. Tucker's students to think about what they could create in response. And it worked the other way, too.
"The Writing students came up with the original prompts, my students developed ideas for sculptural forms loosely based on those prompts, then Mike's students altered their narratives based on what my students were making," Tucker said. "It went back and forth, which was super fun!"
Visitors could take a dive deep into the narratives, paying close attention to solve some of the mysteries presented to them – reading the stories, scanning the evidence, looking at the sculptures and putting everything together, Sheehan explained, or simply take a casual approach and see what's on display. They could also take a story along with them through a QR code so the story can continue to grow, Sheehan added.
This was the first time – and hopefully not the last time, Sheehan and Tucker say – that their students will collaborate on a variation of an installation that involves art and the written word.