Olrogg named Honors Student of the Month for May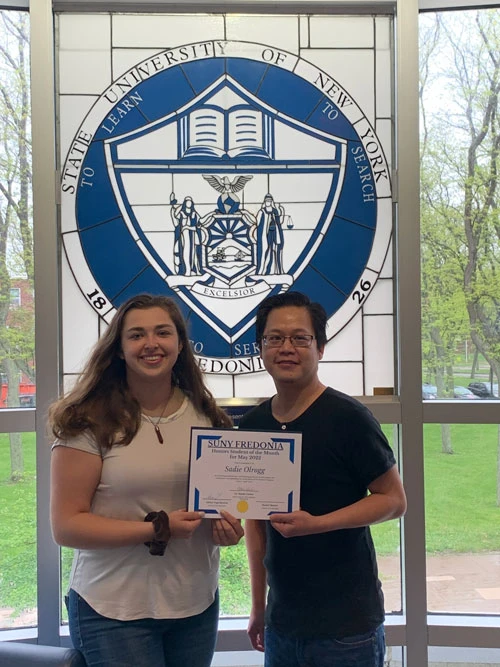 Sadie Olrogg, a junior from Springville majoring in Chemistry, has been named the May 2022 Honors Student of the Month.
Ms. Olrogg was nominated by Department of Chemistry Assistant Professor Allan Jay Cardenas, who considers the Springville-Griffith Institute graduate – who has one of the highest GPAs in her class and also engages in high-level research – to be one of the most outstanding and promising students in the department.
Research and communication skills have led to Olrogg winning several competitions held outside of the university. Most recently, Olrogg was awarded a first place in the Sigma Xi Undergraduate Research Conference held at Penn State Behrend. Olrogg also presented these findings in the American Chemical Society Spring 2022 meeting, which is regarded as the largest scientific conference in the field.
"Sadie is the personification of the three pillars of the Honors Program. She has excelled academically and participated in wide range of highly impactful extra-curricular activities," Dr. Cardenas remarked.
Chemistry is a challenging discipline, requiring students to juggle laboratory classes and submit at least three, 5-page lab reports every week for each lab class, Cardenas said, yet Olrogg effectively manages her time wisely and excels in every endeavor she pursues.
A well-rounded student, Olrogg is a very active member of the Chemistry Club, which conducts extensive outreach. In a recent example, Olrogg and the Chemistry Club tie-dyed pillow cases to be donated to a children's hospital in Buffalo. Olrogg always participates in recruitment activities of the department.
Olrogg also was a member of the swim team and is an associate justice in the Student Association. She does all this, Cardenas noted, and is a work-study student for the department as well. Even with extra-curricular activities and earning As in class, Olrogg is also able to serve as chemistry tutor.