One of 'Fredonia's own' is part of 'The President's Own'
When "The President's Own" U.S. Marine Band comes to SUNY Fredonia to perform on Wednesday, Oct. 5, one of "Fredonia's own" will be part of the show.
Bassoonist Staff Sgt. Stephen Rudman from LeRoy became a member of the band in February 2020. Following his graduation from the Fredonia School of Music in 2015 with majors in Music Performance and Sound Recording Technology, Staff Sgt. Rudman went on to earn a master's degree in classical bassoon performance from Manhattan School of Music.
Prior to becoming part of "The President's Own," Staff Sgt. Rudman was principal bassoon with Symphony C in New Jersey and performed with the Princeton Symphony, Spoleto Festival Orchestra and Verbier Festival Orchestra. His instructors have included Interim Dean of the School of Music Laura Koepke, Frank Morelli of the Manhattan School of Music and William Short of Temple University.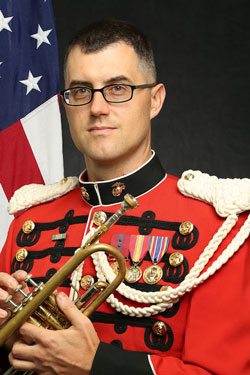 Fredonia School of Music Interim Dean Laura Koepke noted, "While at Fredonia, Stephen was deeply involved in both the Sound Recording Technology program and the Music Performance program. He excelled in both majors and was awarded The School of Music Performer's Certificate. The School of Music takes pride in providing a supportive environment where our students can explore their passions within the vast field of music. We are happy for and proud of Stephen and his successes!"
In a recent development, School of Music Director of Bands Paula Holcomb has been invited to conduct a portion of the band's performance in King. In addition, members of "The Presidents Own" will present clinics in School of Music instrumental studios, and Col. Jason Fettig, conductor of the band, will present a clinic for Advanced Conducting classes.
But Staff Sgt. Rudman is not the only SUNY Fredonia School of Music alumnus serving as one of "The President's Own." Gunnery Sgt. Benjamin Albright from Wilson, who plays trumpet and cornet, became a member of the band in August 2008, although he is not part of this particular tour. He earned master's and doctoral degrees in music performance from the University of Michigan, and while at Fredonia he studied with Alex Jokipii, who also serves as principal trumpet of the Buffalo Philharmonic Orchestra.
Gunnery Sgt. Albright formerly performed with the Lansing Symphony Orchestra, the Saginaw Bay Symphony, the National Repertory Orchestra in Breckenridge, Colo. and the Buffalo Philharmonic.
In another alumni connection to U.S. military performing groups, U.S. Air Force Master Sgt. Hillary Grobe, who graduated from SUNY Fredonia in 2012 with majors in Music Performance and Music Education, is a member of the Singing Sergeants ensemble, and performed the national anthem for the Washington Spirit vs. Gotham FC game at Audi Field on Sept. 24.
After her Fredonia years, Master Sgt. Grobe earned a master's degree in vocal performance from the University of Cincinnati College-Conservatory of Music. She was a Young Artist with Opera North in New Hampshire, Songfest at the Colburn School in Los Angeles, the Vianden International Summer Music Festival in Luxembourg and the Vancouver International Song Institute, and has sung with Cincinnati Opera and the Lyric Opera of Chicago. Her career in the air force began in June 2017.