Public Astronomy Nights returning to SUNY Fredonia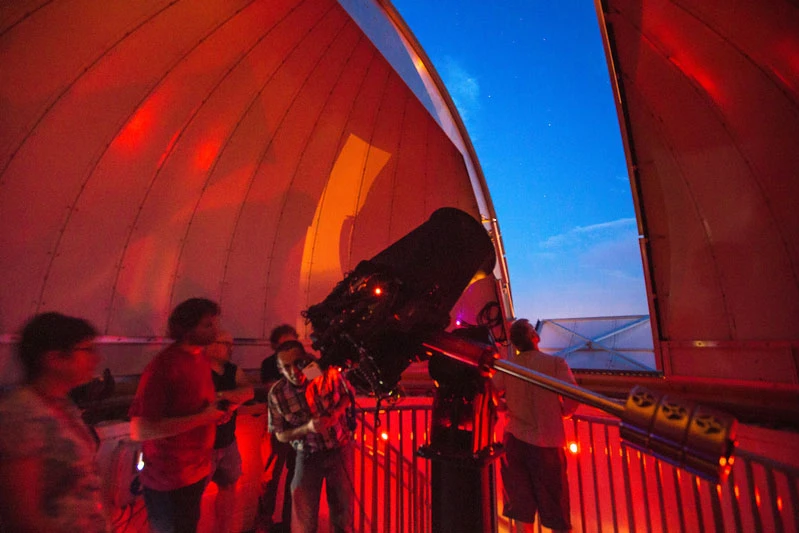 Public Astronomy Nights, approximately weekly events where anybody from the campus and surrounding communities can attend public stargazing and telescope viewing sessions at the Kelly Family Observatory, are resuming at SUNY Fredonia.
Visitors will experience a guided night sky tour and have the opportunity to view celestial objects through a telescope. Reservations are required, as a maximum of 30 people can attend due to space limitations in the rooftop observatory, which is located on the roof of the Science Center on campus.
Organizers note that the sessions are dependent on clear skies and are subject to cancellation. Go online for more details, and to make a reservation.
For the 2023 season, public astronomy nights will occur on Tuesday nights, beginning on Tuesday, April 11. Public astronomy nights begin at 8 p.m. in April, 9 p.m. in May, 10 p.m. in June and July, 9 p.m. in August, and 8 p.m. in September and October.
Directions to the Kelly Family Observatory: the observatory is located on the roof of the Science Center, which is oriented east-west, with elevators on both ends of the building. Visitors may use any entrance, but must use the elevator on the east end of the building. Go to the top floor, labeled "PH" for penthouse (if there isn't a button for this floor, you are in the wrong elevator). When the elevator doors open, visitors should exit the elevator and turn right. They will then see an open door that leads out onto the rooftop viewing deck where the observatory is located. Those who have their own portable telescopes are welcome (and encouraged!) to set it up on the viewing deck alongside the observatory.