Relay for Life takes a stand in remembrance and celebration
One of the most powerful events on the Fredonia campus each year, Relay for Life, returns to Steele Hall Fieldhouse on Saturday, March 23. Starting at 3 p.m. and running until the wee hours of the next morning, the walk benefits the American Cancer Society and will feature performances, games and emotional ceremonies to pay tribute to, and show solidarity with those fighting cancer.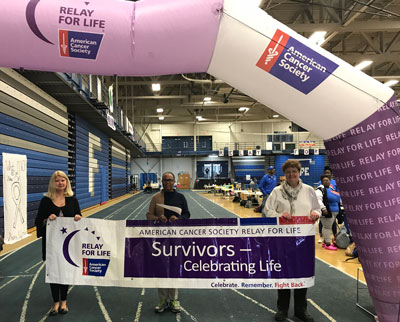 "The mission is to show the struggle that a cancer patient goes through on their journey from when they're initially diagnosed, all the way to remission," said Lindsey Anderson, Relay for Life chair. "If it's not them personally it's their family, it's their friends, it's their friend's parent…everyone has that story."
The event is a large production organized and executed by a dedicated group of students that spend weeks getting Steele Hall ready. Students receive community service credit for their work as planners and organizers.
Relay for Life starts with an opening ceremony, which Anderson said will be very celebratory. "The goal is to have more birthdays, for people to be here longer, to have people not worry as much when they get cancer because they have a way to get treatment, they have these tools available to them," said Anderson, who is participating in her 10th Relay for Life event.
Participants who are cancer survivors take their first lap around the track to start the event. "It is always amazing to watch," Anderson said."These are people who battled and are still here."
About half way through the night is the Luminaria Ceremony; the ceremony of remembrance.
Attendees decorate white paper bags dedicated to the memory of someone who has passed as a result of cancer, and then use the bags to line the Steele Hall track. Everyone in the fieldhouse is given a glow stick. Slowly, everyone starts to crack and illuminate their glow stick at the point that cancer has impacted them as it is read aloud.
As the participants walk around, they drop the glow sticks into the bags lining the track. At the end of the laps, a tarp is dropped on the back wall revealing the word "Cure."
"It's very somber," said Anderson, who lost her aunt to pancreatic cancer 10 days before last year's event. "It's our time to say, 'This sucks. We've all suffered losses, it's hard, it hurts,'" Anderson said. "You'll want that group of people because you will link arms and walk with your friends and they will help you through it."
Around midnight, there will be the Fight Back ceremony. It's the realization that they have been up, walking and fighting for this long and now it's a new day.
The closing ceremony, which happens around 3 a.m., reflects on the accomplishment of making it through the 12-hour-long walk and celebrates the proceeds collected for the American Cancer Society.
When asked why she thinks Fredonia's has been able to stick around, Anderson said, "I think because of just the amount of community service we have on this campus, this is something that has helped so many students feel fulfilled. We have professors who have been impacted by cancer, we have students who are battling cancer as they're undergoing their college education. We have enough people here that make it different."
Anderson said it's great to see how sign ups grow throughout the registration process. "It's a really cool phenomenon where people want to start a group and they slowly start drawing their friends in, and by the time of the event there's 20 people on this team because these three people got five of their friends and they got five of their friends…they just built this community."
The whole Relay for Life event is based off touching symbolism. "Even though we don't have cancer, we're going to be doing this event to symbolize what they go through. 3 p.m. to 3 a.m. is not easy, you're not supposed to be awake those hours, but you're supposed to stay those 12 hours because it really symbolizes the fight," Anderson said, "One person from your team is supposed to remain on the track at all times…to show the fight never stops."
Those who wish to join in the relay can register online.
The event is sponsored by Colleges Against Cancer in conjunction with the Office of Volunteer and Community Services. For more information contact Anderson Anderson via email or Joyce Smith via email.