Renowned conductor to visit for Fredonia Choral Festival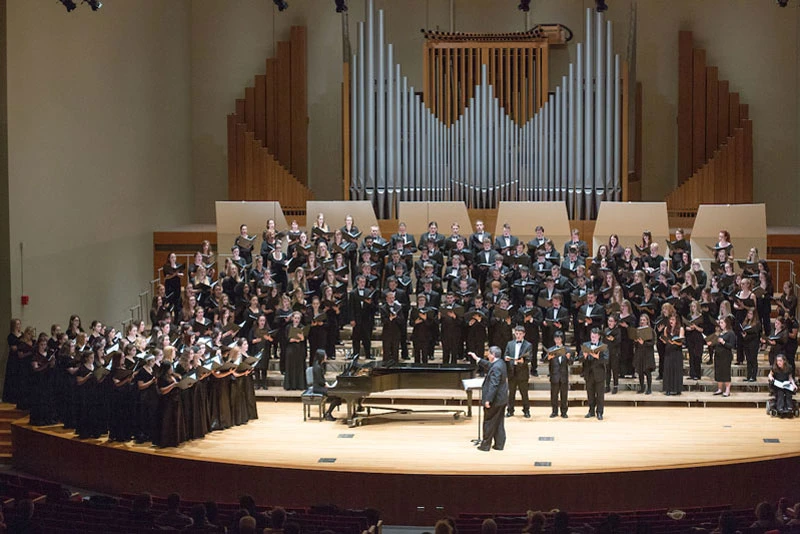 The 13th annual Fredonia Choral Festival will welcome Caron Daley, director of Choral Activities at Duquesne University in Pittsburgh, and the Fredonia High School Chorus to SUNY Fredonia on Feb. 10 and 11.
As festival clinician, Dr. Daley, an associate professor at Duquesne's Mary Pappert School of Music, will lead a workshop, "Dalcroze Eurhythmics in Vocal Pedagogy and Choral Rehearsal Techniques," on Friday, Feb. 10, at noon in Mason Hall Room 1080. During this interactive session, participants will experience how the sound-gesture relationship can improve awareness, concentration and retention of learning in choral singing.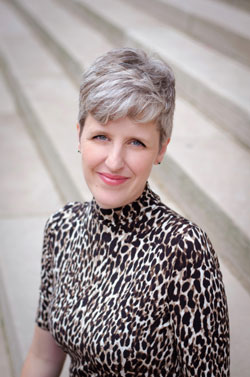 "We are thrilled to have someone as well-known and highly regarded as Dr. Daley on campus for a few days to work with our students, the Fredonia High School students, and present a concert to the community," said Associate Professor Vernon Huff, who is director of Choral Activities in the School of Music.
For the remainder of Friday afternoon, Daley will lead open rehearsals with three School of Music ensembles – the Camerata, directed by Lecturer Brent Weber; College Choir, directed by Dr. Huff; and Chamber Choir, directed by Assistant Professor Adam Luebke.
Culminating the two-day festival will be a concert featuring the three School of Music ensembles and the high school chorus in Rosch Recital Hall on Saturday, Feb. 11, at 4 p.m. Daley will conduct one selection with each ensemble and then all three ensembles in "Non, Nobis, Domine" (Not for us, Lord), by American composer Rosephanye Powell, as a combined piece and concert closer. 
"It is also worth noting that Dr. Daley has chosen to conduct repertoire by women composers, including Reena Esmail, Rosephanye Powell and Dale Trumbore," Huff said.
Each School of Music ensemble, led by its respective director, will also present two or three additional selections.
"We are thrilled to have someone as well-known and highly regarded as Dr. Daley on campus for a few days to work with our students, the Fredonia High School students, and present a concert to the community." – Dr. Vernon Huff
The high school chorus, directed by SUNY Fredonia alumnus Ryan Shanahan, who received a Mus.B. in Music Education in 2015, will perform on the Rosch stage and be able to attend the Saturday workshop and rehearsals. This marks the first year a high school chorus has been invited to the festival.
"I am excited to include choir students from Fredonia High School in our concert. This will give them an opportunity to work with Dr. Daley and interact with our collegiate choirs as well," Huff said.
The Friday workshop and ensemble rehearsals are free and open to the public. For Saturday's concert in Rosch, community members can purchase concert tickets in advance for $8 at the Fredonia Ticket Office in the Williams Center. Tickets for SUNY Fredonia students are free if picked up in advance at the ticket office, or are $2 at the door.
"We hope that everyone purchases tickets ahead of time," Huff noted. "There was a large crowd last year, so we had to delay the concert start by 15 minutes."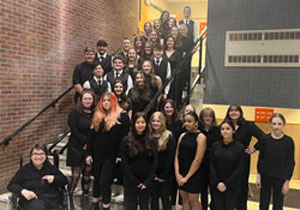 The high school choir consists of 45 singers in grades 9 to 12 and is one of three performing ensembles in the school's music department that has earned National Association of Music Merchants Foundation recognition in each of the last 10 years. Mr. Shanahan, who has also a graduate degree from Michigan State University, is in his sixth year in the district.
Duquesne choirs, under the direction of Daley, have performed across the Northeast and Canada, including an invited performance at the 2019 National Collegiate Choral Organization Conference. Choirs have collaborated with the Pittsburgh Symphony Orchestra and been invited to sing at the 2023 National Association for Music Education Eastern Division Conference. 
A certified Dalcroze Eurhythmics teacher, Daley researches embodiment in choral singing and conducting, and has been published in Canadian Music Educator, Teaching Music through Performance in Choir Vol. 4 and Vol. 5, Choral Journal, Journal of Singing, The Choral Scholar and the International Journal of Research in Choral Singing.
Daley has a D.M.A. in Choral Conducting from the University of Toronto, a M.M. in Choral Conducting and M.A. in Vocal Pedagogy from Ohio State University, an Artist Diploma in Voice, a B.M. in Music Education from Western University and an A.R.C.T. in Voice from the Royal Conservatory of Canada. She currently serves as National Chair for College and University Choirs with the American Choral Directors Association and is past-president of the American Choral Directors Association of Pennsylvania. 
The festival concert is sponsored in part by a generous grant by the Carnahan Jackson Fund for the Humanities of the Fredonia College Foundation and the Fredonia student chapter of the American Choral Directors Association.