School of Business presents first 'Best in Business' awards ceremony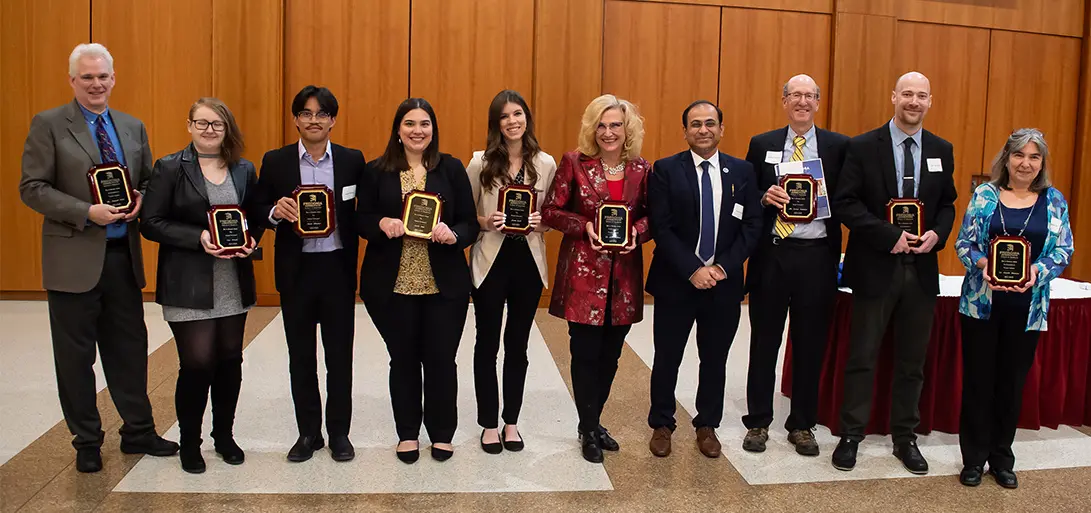 The inaugural Best in Business Awards Ceremony was launched in fine fashion by the School of Business, highlighted by the presentation of student awards, faculty awards and individual awards for best alumni, best industry partner and best staff.
Dean of the School of Business Kaustav Misra presided over the ceremony, held Nov. 9 in the Williams Center Multipurpose Room, that attracted over 90 guests. President Stephen H. Kolison Jr. extended a welcome to the audience and Provost David Starrett offered remarks.
"These awards and the ceremony were created by the SUNY Fredonia School of Business to create a firmer sense of belonging for our faculty, staff, and students and to formally recognize the exciting ways that the School of Business and the local community partners have been collaborating," Dr. Kolison said. "I offer my sincerest thanks to those long-standing industries in our area who have been supporting SUNY Fredonia and congratulations to those being recognized tonight," he said.
Recipients of the student Business Administration awards:
• Sarah State, senior, double major in Public Accountancy and Business Administration: Management, with a minor in History, from Marion, NY. She is president of the Beta Gamma Sigma Honor Society, vice president of the Business Club and a member of the Accounting Society.
• Jenna Leid, senior, Public Accountancy, Fredonia, NY. After graduating in December, she plans to relocate to Buffalo, NY, and begin a career with Brock, Schechter & Polakoff, an accounting firm in Buffalo. She had completed a successful internship with the firm.
Recipient of the Applied Professional Studies award:
• Sage Brandt, senior, double major in Music Industry and Business Administration: Management, Newark, NY. She is a volunteer at the Garment Gallery in Dunkirk, NY; a member of the campus eSports team and an event coordinator with the student record label HAIL! Fredonia Records.
Recipient of the Economics award:
• Aaron Mendez, double major in Applied Mathematics and Economics, Kenmore, NY. He is COO of the campus chapter of the student-run entrepreneurial organization Enactus, a volunteer at the Tutoring Center and was a member of the track & field and cross-country teams.
Recipients of faculty awards:
• Dr. Lisa Walters – Faculty Research Award. She teaches courses related to operations management that include Operations Management, Applied Quality Operations, Supply Chain Management and Project Management. She researches and publishes with an emphasis on operations management and had previously worked in the biomedical industry, in testing, regulatory affairs and quality compliance.
• Dr. Reneta Barneva – Faculty Service Award. She has served in academia for over 35 years and has published more than 100 journal articles and conference papers and has co-edited 19 books. She is the recipient of several national and international awards, as well as the SUNY Chancellor's Award for Scholarship and Creative Activities and was named a Robert W. Kasling Lecturer.
• Armand Petri – Faculty Teaching Award. He is a producer, engineer, composer and musician and head of the Music Business program. He has toured Europe, as a drummer, produced a group signed by a record label, was a producer at Pure Metal Records and has directed music videos. He has worked with Western New York recording artists that include The Goo Goo Dolls and 10,000 Maniacs.
• Stuart Shapiro – Engagement Award. He is a practicing attorney with over 30 years of experience in entertainment law, as well as an award-winning songwriter and musical performer. He teaches upper level courses in the areas of copyrights, trademarks and rights of publicity and music business contracts, as well as innovative courses in contemporary issues and financial planning, and is a textbook author.
• Jason Becker – Adjunct Teaching Award. He has been an instructor at SUNY Fredonia since 2009 as an adjunct faculty member for the Sport Management Program in the School of Business.
Recipient of the Best Alumni Award:
• George Simmons – A 1975 graduate, Mr. Simmons has over 30 years of experience in the technology industry and has expertise in software, hardware, medical services and industrial automation sectors. He has managed growth at public and private companies, holding nearly all executive level positions in tech startups. He has been the senior partner at Derby Management for the last 20 years.
Recipient of the Industry Partner Award:
• Fastenal – A partnership with the School of Business began with a go-to-market strategy presentation it gave in Dr. Walters' Operations class and led to a semester-long project that was implemented due to the synergy of Fastenal's daily operations in supply chain management and the course. The student project led to a partnership where the Fastenal team is teaching a course during the fall semester.
Recipient of the Best Staff Award:
• Robyn Reger – She joined SUNY Fredonia in 2001 in the Finance and Administration division and was promoted to Administrative Assistant II in Academic Affairs, where she works in the dean's office in the School of Business.
Guests invited to the ceremony included faculty, staff and student leaders in the School of Business, members of the School of Business Advisory Board, industry partners and community leaders.
The Best in Business Awards ceremony was sponsored by the Richard and Michele ('73) Johnson Family Endowment held at the Fredonia College Foundation, and the Northern Chautauqua County Community Foundation.