School of Music student to represent university at Buffalo Bills game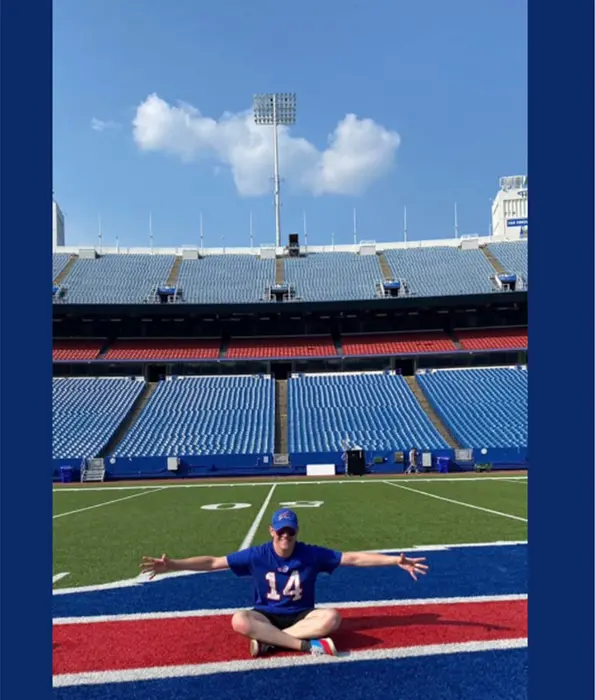 Sophomore Lucas M. West, a student in the SUNY Fredonia School of Music, has been selected to sing the national anthem at the Sunday, Nov. 19 Buffalo Bills game at Highmark Stadium in Orchard Park, NY. The New York Jets will be playing the Bills at 4:25 p.m.
How did this happen??
Lucas recalls sitting in a practice room on campus on May 8 and receiving an email about open auditions to sing the national anthem at a Bills home game, adding, "As a hardcore Bills fan and as a performer, my instinct was to immediately dash over to Starbucks, get a cold brew in my system, and hash out my own personalized arrangement of the anthem that I wanted to sing." After he got home for the summer, he recorded his preliminary audition video and sent it into the Bills organization. On June 15, he was notified via email that he was one of six finalists, and was invited to audition live on June 21 at Highmark Stadium on its PA [public address] system. After driving to Orchard Park with his full keyboard "rig," Lucas was the first to audition and while there met "some incredible artists," who he's still in touch with. He added, "Singing with the stadium PA at Highmark was a great learning experience."
And then…he waited…and on Sept. 14 during a jazz theory class, Lucas received an email from the Bills organization inviting him to perform the anthem on Nov. 19. Lucas noted, "I am beyond grateful and honored for this opportunity, and hope I can put on a performance that people will remember."
Lucas is a Bachelor of Arts in Jazz Studies major from Fairport, NY, studying voice, piano and trombone. He also plays trombone in the Fredonia Jazz Orchestra, piano in the New Jazz Flextet, trombone in the Trombone Choir and sings in the Vocal Jazz Combo. Lucas studied classical piano during his first year at Fredonia with Fr. Sean Duggan, and this year studies jazz piano with Dr. Nick Weiser, who coordinates the Jazz Studies program. He also plans to continue studying classical and jazz voice throughout his college years.
Lucas added, "Big thanks to the Bills organization for this incredible opportunity."