Senior experiences geology field camp in Hawaii
Fredonia senior Gilian Tytka marked both New Years Eve and her own birthday on the largest volcano on earth.
Tytka, a native of Hamburg who will graduate in May with a B.S. in Geology and a minor in Geographic Information Systems, was on the Hawaiian Islands Dec. 27 through Jan. 13. She joined a group of students from across the country mapping lava flows from Hawaii's well-known volcanoes; Mauna Loa and Kilauea.
"On Kilauea, we took GPS points and input them into Google Earth Pro, then added colors (red is youngest, blue is oldest) as well as unit descriptions, and measured the distance between all the points," Tytka said. "At another location, called Koa'e Cracks, we measured the orientation between all the points in order to see if they had moved compared to the previous years."
"Other [field camp] projects included mapping Mauna Loa and differentiating the different flows, dating them, and finding the boundaries, plus the green sand beach where we were measuring strike and dip of what was left of a cinder cone," Tytka said.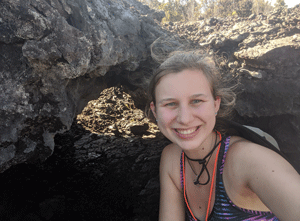 A major eruption from the Kilauea volcano altered the landscape on the big island of Hawaii in 2018. Tytka was able to see the lasting impact. "While we didn't actually map the 2018 eruptions, the professors did take us to a couple of spots from the flow to show us on the day we switched housing," Tytka said. "We actually stopped to see a house that the lava got so close to that it warped the siding from the heat. It's a really neat experience to actually go and visit a place that has rocks that are younger than you!"
Tytka credits Fredonia with not only giving her a strong classroom experience in the Geology program, but for also literally making sure she had what she needed for this adventure. "As soon as (Geology faculty) found out I was going, the entire department was very helpful," she said. "I borrowed a Brunton compass and GPS from them. "They made sure I had what I needed."
Tytka said opportunities like this have made her appreciate her Fredonia experience even more. "Hawaii has such a unique environment and you could definitely visit it down the line, but you aren't going to get all the history and information and all the knowledge that you gain from the projects or the professors that you would if you went alone," she said. "You make good friends along the way too, I mean you're living with this group of people for three weeks, you get to know everyone. It was such a good experience and gave the students an opportunity to practice what they were taught in the classroom while learning a lot of new and interesting information, and expanding our collections a little with rocks we normally wouldn't be able to!"
The field camp was conducted by the South Dakota School of Mines and Technology.