Smith named Honors 'Student of the Month' for May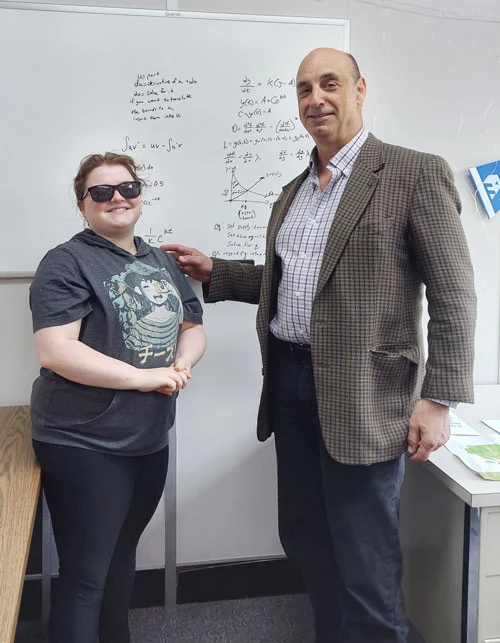 Anne Smith, a junior double major in English and Computer Science with a Creative Writing minor, is the recipient of the May 2023 Honors Student of the Month Award.
Ms. Smith was nominated for this honor by Associate Professor of Politics and International Affairs Jonathan Chausovsky, who taught Smith in two Honors courses: The Election of 2020 (Fall 2020) and Politics and the Arts (Fall 2022).
"Anne has been an active participant in both courses. In the Election of 2020 she managed the projection of student posters of a 'Better Know a District' on the big screen in the Williams Center. Each student created a profile of candidates, issues and demographics in a different district. Anne took on the responsibility of making sure they went live each day," Dr. Chausovsky said. As a result, she also got to know the people in charge of Student Life in the Williams Center. She was a regular contributor, and was amazingly outspoken for a first-year student.
Smith was also an active center of gravity for both Chausovsky courses. "She engaged with the readings, paid attention to the comments of other students, responded appropriately, and thought both linearly and non-linearly. She almost always had an interesting reaction; it sometimes reinforced or elaborated on what others said, but sometimes offered a unique perspective that no one had articulated. It helped keep the classes lively and interesting," Chausovsky explained.
The feeling is mutual, since Smith describes the Election of 2020 as definitely her favorite Honors course, saying, "It was an exciting class for my first semester of college, and it still remains a highlight."
Beyond the access to unique courses that Honors offers her, Smith celebrates "the supportive community" as her favorite aspect of the Honors Program, as Chausovsky observed, "She has found a community within the Honors program from the outset. She has used all of the resources made available to connect with other students, and to participate in the community. She welcomes new Honors students, and sets a joyful example of consistent hard work."
As just some examples of her hard work, Smith is member of Alpha Lambda Delta, and participates in running blood drives and welcoming first-year students. She made an Honors Orientation presentation video, and has been a friendly voice for all students, particularly in the Honors program. This past spring, she has also participated with Litmora, a literary magazine founded by Fredonia Honors students.
These are but a few examples of how Smith has thrived at Fredonia since her arrival. "I feel like I can do anything here at Fredonia. SUNY Fredonia itself fosters a sense of freedom," Smith wrote. This feeling is borne out by her atypical combination of majors, English and Computer Science, which are enabling her to achieve her future goal of creating interactive media, as she wrote, "whether that's my job or just my passion, I know that's what I want to do."
As a Creative Writing minor, Smith has also brought creativity to her course assignments, whatever the discipline. As Chausovsky wrote, "Anne is a creative writer. She has used that interest to experiment with assignments that otherwise might appear to call for social science writing. In her most recent essay, she began with the description of a personal reflection on her experience in a community theater. About halfway into the essay, she used that narrative to comment on the views of an essay, "Politics and the Arts: Letter to M. D'Alembert on the Theatre," by Jean-Jacques Rousseau, circa 1758.
She found value that went beyond what Rousseau theorized, and she explained why. By contrast, a social science paper would have put Rousseau in the introduction. Anne was able to make her creative approach work effectively. This was a display of creativity and quality," Chausovsky said.
Smith, who graduated from Lake Placid Central School, offers the following advice for other Honors students: "Go for it! Anything you want to do you should do right now."
With an anticipated graduation date of December 2024 with two majors, Smith is working to realize her future goals. She thanks Chausovsky for what she says are amazing courses and thanks Honors Program Director Natalie Gerber, of whom she says, "You have been a fantastic advisor! Honors would not be Honors without your work."
The Honors Student of the Month Award is a joint effort of the Honors Program and of the Office of Residence Life, which generously supports the various forms of recognition the winners receive. The Honors Student of the Month Committee is also comprised entirely of Office of Residence Life staff. It was noted that this year's committee members, Eisenhower Residence Director and '22 Honors alumna Autumn Hobel-Furrer, Grissom Hall and Honors House Residence Director Kyle Pisctitelli, Assistant Director Residence Life and Townhouse Coordinator Jill Swanson, and Director of Residence Life Kathy Forster, have been exceptionally supportive of the program and of the students.