Student internship builds case to preserve Buffalo's 'Green Book' structures
Cameron Flynn, a senior at Fredonia, has assembled a wealth of information that will be utilized to advance efforts to preserve what's left of buildings in Buffalo that once housed businesses that appeared in Negro Motorist Green Books.
For four decades, these annual directories guided African-Americans to destinations where they would not be subjected to harassment or racism. Green Book listings included hotels, restaurants, barber shops and other service businesses in every state and hundreds of major cities, including Buffalo, Niagara Falls and Rochester, N.Y.
Mr. Flynn compiled a detailed spreadsheet documenting individual histories of 120 buildings, where these businesses operated decades ago, during a fall internship with The Campaign for Greater Buffalo History, Architecture & Culture.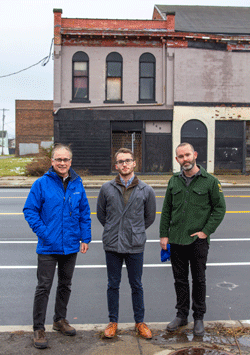 "It's a remarkable spreadsheet, quite illuminating," remarked Chris Hawley, Flynn's internship coordinator and a volunteer with The Campaign for Greater Buffalo. In it, Flynn reported whether each building is still standing and identified occupants of each building between 1936 ­– the first year Green Books were published – and 1967, when publication ceased.
"The spreadsheet provides a complete picture of these buildings in a broader historical context," explained Mr. Hawley, a senior planner with the Buffalo Preservation Board. "His efforts were pretty exhaustive in terms of traditional archive research, using maps, city directories and newspaper clippings."
Flynn uncovered what Hawley described as "multiple layers of significance" of some buildings. A prime example is a late 19th century building on Broadway that housed multiple businesses, including the African-American owned Claridge Hotel. It was listed in Green Book for two decades, beginning in 1947.
The hotel was located in the Frontier Building – the centerpiece of "Rainy Night, an early 20th century street scene painting by noted watercolorist Charles Burchfield. "It's a gorgeous painting, one of his better known paintings," Hawley noted.
Green Books were published in the waning years of the Jim Crow era, when "white only" signs and other forms of blatant discrimination could still be found on water fountains and in restaurants, waiting rooms and hotels. The directories inspired the film, of the same name, which won the Academy Award for Best Picture in 2019.
The dual History and Adolescence Education: Social Studies major discovered Green Books upon casting a wide research net that encompassed all kinds of buildings in the city that may be worthy of landmark designation. Flynn was quickly drawn to the historical and cultural aspects of Green Book businesses.
Numbers that he compiled – and what they mean to Buffalo and the African-American community – were troubling. Only 16 of 120 Green Book locations are still standing.
"Urban renewal (in the 1960s) made 120 sites into 16 sites. That really blew me away because how significant these places were and that they're no longer there," he said. "Urban renewal hit African-American communities very hard." The businesses were concentrated in the city's Ellicott neighborhood and often functioned as community centers.
Sadly, too, several remaining structures have been significantly altered or show long-term neglect. "Some of them don't have current occupants, are empty or vacant, but there's one that I've very excited about," Flynn noted. It's a bar and grill that operated in that era and is currently being renovated by a son of a former owner.
Flynn's documentation also includes current photographs and general building descriptions. In a few precious cases, Flynn was able to interview longtime residents who still remember some of these businesses. The information will serve as a springboard for deeper community outreach that preservationists hope will lead to the buildings being placed on the National Register of Historical Places and granted landmark status by the Buffalo Preservation Board and Buffalo's Common Council.
"I absolutely believe there are Green Book sites that deserve historic landmark status due to their cultural and historic significance in the Buffalo community," the 2015 Lewiston-Porter High School graduate said. "Doing historical and cultural research is something that I really enjoy doing."
Flynn spent two days a week, mostly in Buffalo's central public library, pouring over city directories, newspaper archives and maps. Baseline data was compiled by sifting through digitized versions of Green Books available online through the New York Public Library.
History Associate Professor Steve Fabian said the internship allowed Flynn to apply research skills taught in the Department of History's methods classes towards a project that will contribute to the public good.
"This project will increase the public's historical awareness of Buffalo's African-American history by uncovering the remaining local businesses which welcomed African-American travelers from the 1930s to the 1960s during a time of intense racist discrimination," Dr. Fabian explained.
Fabian shares a strong interest in Buffalo urban history with Hawley and helped coordinate Flynn's internship. Daniel Richer, a 2018 graduate who also majored in History, completed a similar internship on Buffalo landmarks with the preservation organization, Fabian noted.
"I hope my work is able to prevent the further elimination and loss of these establishments that are filled with historical and cultural significance," Flynn said.
The internship sharpened Flynn's research skills, particularly when it involves local history, and enhanced his ability to bring to light the cultural significance of historical buildings and detail how they have impacted neighborhoods. "It opened my eyes to a lot of things about Buffalo that I never would have known," Flynn said.
Flynn plans to emphasize research skills during two student-teaching assignments – both in U.S. history – in the spring 2020 semester. These skills that Flynn honed during his internship can be readily applied to any local historical research he does wherever he becomes a public school teacher.
The Buffalo experience will further serve Flynn well as a secondary school teacher, Fabian added, because it provides him an intimate experience of showing how local history intersects with bigger issues on the national level.
"This is the kind of lesson that would serve his students well by showing them how larger American historical themes like segregation and the struggle for civil rights played out right here at home. History doesn't just unfold 'somewhere else'; students must learn – and learn to recognize – how history affects them personally, too," Fabian said.