Student soloists to be featured in Vivaldi's 'Gloria' with WNYCO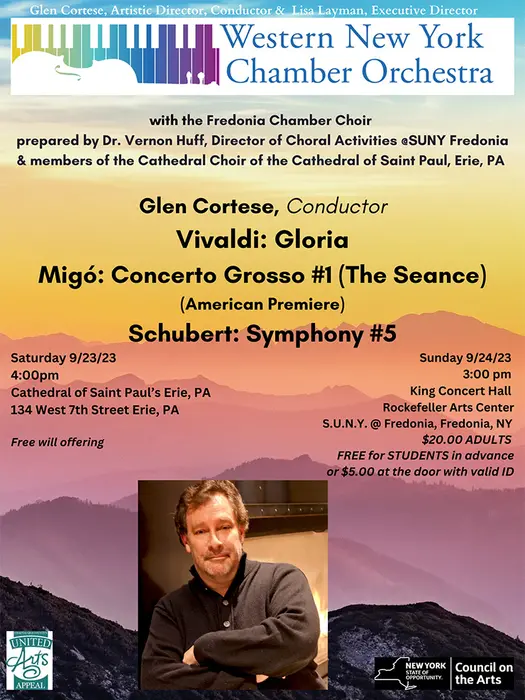 The Fredonia Chamber Choir, members of the Cathedral Choir from the Cathedral of Saint Paul in Erie, PA, and the Western New York Chamber Orchestra (WNYCO) will present Vivaldi's "Gloria," on Sunday, Sept. 24.
The event, in King Concert Hall on the SUNY Fredonia campus at 3 p.m., will feature students from the School of Music as soloists, including:
Leah Curran from Sodus, NY. She is a senior with a double major in Vocal Performance and Music Education. Leah was a soprano soloist in 2022 with WNYCO for the Schubert Mass in G, sang the role of Mrs. Bassett in the 2022 Hillman Opera, "Summer and Smoke; Branghein in "Le vin Herbé" with WNYCO, and in the ensemble in the Hillman Opera production of "Il Matrimonio Segreto." She is currently working on her upcoming double cast role as Rosalinda in the November production of the Hillman Opera, "Die Fledermaus," as well as studying repertoire, and her teacher is Dr. Kimberly Upcraft.
Elizabeth Davis, a senior Music Therapy and Voice major from Canton, NY. It is her second year in Fredonia's Chamber Choir, and she recently debuted as a lead in the newly-composed opera, "For Want of a Top." Elizabeth traveled to London with the Fredonia choirs this past summer, and is currently part of the ensemble for upcoming Hillman Opera production of "Die Fledermaus."
Esther Duclair, a soprano from Long Island, NY, a junior Vocal Performance and Music Education major. Her past performances include Rosemary in Lee Hoiby's "Summer and Smoke" with the Hillman Opera, Miss Pinkerton in Menotti's "The Old Maid and Thief," the chorus in Verdi's "Falstaff," and in the chorus for the Buffalo Philharmonic Orchestra production of Mozart's "The Magic Flute." She has collaborated with Kor Productions and played in the pit orchestra for the Hillman Opera production of Cimarosa's "Il Matrimonio Segreto." She has also participated in an AAMS Opera winter workshop at the Kennedy Center.
Isabella Wahl, from Rochester, NY, a senior Music Education and Performance major at SUNY Fredonia. Past WNYCO engagements include a performance of Schubert's Mass in G (soloist) and "Le Vin herbé." She is a student of Adjunct Lecturer Lisa Layman and SUNY Distinguished Teaching Professor Julie Newell.
Ashley Zielezinski, a junior Music Education major from Buffalo, NY. She is a soprano voice student studying under Professor James Harrington. Ashley is making her Hillman Opera debut this fall in the double cast role of Rosalinda in Johann Strauss II's "Die Fledermaus," and has participated in many events on campus including the Student Opera Theatre Association's Grand Night of Singing and Opera Scenes.
The concert will also feature Schubert's Symphony No. 5 and the American premiere of Marc Migó's Concerto Grosso No. 1 ("The Seance.")
Tickets for adults are available at the Fredonia Ticket Office in the Williams Center and online, and student tickets are free in advance, or $5 at the door. Advanced purchase of tickets is encouraged.
An additional performance will be presented on Saturday, Sept. 23 at 4 p.m. at the Cathedral of St Paul in Erie.