Students mine valuable career guidance at 'Meet the Professionals Night'
"I had the opportunity to meet with several financial institutions, which included banks, CPA firms and consulting agencies… We got to talk to some of these companies not as students, but as potential employees and interns."
That's how Josue Petion, a senior from Brooklyn majoring in Business: Finance and Communication: Video Production, summarizes the student experience at the Sept. 16 Meet the Professionals Night at the Williams Center Multipurpose Room. He met with representatives from 10 firms.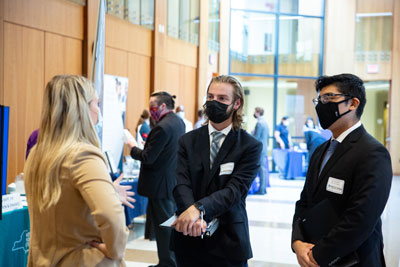 "By the end of the night, I met with eight recruiters; all of which I had great conversations with. I have narrowed myself down to a few that I think will best suit the accounting experience I am looking for," chimed in Nicholas R. Nosbisch, a sophomore Public Accountancy major from North Collins who will graduate early.
These weren't the only impressive numbers you'd find in a Meet the Professionals Night Excel spreadsheet. Seventy students met with a record 26 organizations.
Wearing facial coverings didn't interfere with the mission at hand – students meeting recruiters from accounting and finance firms, businesses and government agencies in Western New York and Pennsylvania to learn about internship and job opportunities.
"It was our largest in terms of employers," according to Career Development Office Associate Director Chris LaGrow. "We had a good mix of CPA firms, along with banks, state agencies and some investment companies, so it was a very good mix of different types of employers for students," he said. Many Fredonia alumni were among the representatives who met with the students.
"To have this many employers for this event was a very good sign for them. We anticipate that the market will be competitive but good for students. The jobs will be there." - Chris LaGrow, associate director of the Career Development Office
"I feel as a student that this event is invaluable," Mr. Nosbisch added. "It is one of the first ways to get yourself out there in the accounting world, even if you don't receive an internship. The recruiters were just as excited to talk to students, as we were to talk with them."
"The students carried themselves very professionally," LaGrow said. "I received feedback from multiple employers about how well students prepared for the event; they commented on how the students were dressed professionally and were asking good questions, so they made very good impressions."
Seeking out internship and job opportunities with financial firms was top-of-list for August B. Bates, a senior from Hamburg majoring in Music Industry and Jazz Studies, with a minor in Accounting. Mr. Bates met with representatives from M&T Bank, Alliance Advisory Group, Evans Bank and Kersey and Associates, P.C. Each session was a positive, enlightening experience that gave him an abundance of information on internship opportunities and future employment possibilities.
Being confident in oneself, interests and area of study was a major takeaway for Bates.
"As a Music Industry major, I was fearful that I might be overlooked by these institutions. That, however, could not be further from the truth – each recruiter I spoke with seemed very interested in hearing my story and finding ways on how I could find opportunities through their organizations."
Based on the event's numbers and other factors, the CDO expects students will enter a favorable job market in finance and accounting. "To have this many employers for this event was a very good sign for them," LaGrow said. "We anticipate that the market will be competitive but good for students. The jobs will be there."
School of Business Interim Dean Linda Hall concurred, attributing the record number of organizations to a very competitive job market for young talent, and also noted that the opportunity for representatives to meet face-to-face with students, instead of virtually, was also a big draw. "Everyone believes it's so much better to do this face-to-face, even with masks," Dr. Hall said.
Brett Hall, a senior Finance major from Hamburg, also found it refreshing to be able to meet, for the first time, an organization's representative that he had previously connected in an online format. Mr. Hall was attracted to the program because it offers great opportunities to network with many different companies that could lead to future opportunities after graduation.
Meet the Professionals Night, an annual collaboration between the School of Business and CDO since 2006, is essential in providing high-impact practices to help students learn and practice their career readiness skills, said Director of Engagement and Career Development Tracy Collingwood. It culminates a series of professional development activities that lead to placement in internships as well as on- and off-campus job interviews, Hall added.
"It is a win-win event in that Fredonia students majoring in accounting and finance are able to connect to firms and companies, many of whom are also Fredonia alumni," Ms. Collingwood said.