SUNY Chancellor's Award for Student Excellence honors two Fredonia students
Celina Kryk and Stephanie Wojnowski, who compiled impressive academic credentials, displayed exceptionally strong leadership skills and were actively engaged in campus activities at Fredonia, have been chosen as recipients of the 2019 SUNY Chancellor's Award for Student Excellence.
They are among 210 students at SUNY colleges and universities who will be honored at an awards ceremony in Albany on Wednesday, April 24. Created in 1997, the award recognizes students who have best demonstrated the successful integration of academic excellence with accomplishments in the areas of leadership, athletics, community service, creative and performing arts, campus involvement or career achievement.
Both Fredonia women followed rigorous academic tracks, each compiling a GPA of 3.8 or higher and fulfilling requirements in two majors. Ms. Kryk graduated a semester early, in December 2018, with majors in Communication: Public Relations and Communication: Media Management. Ms. Wojnowski is majoring in Communication Disorders and Sciences and French and will graduate in May.
Kryk, a 2015 graduate of Spencerport High School, Rochester, and daughter of Steve and Paulette Kryk, enrolled in the Honors program as a first-year student and embodied many of the traits of a student role model and campus leader. She is a lifelong member of Omicron Delta Kappa, the national leadership honor society, and was her class's representative on the Student Association. As SA's public relations chair, Kryk conducted a student survey that compiled data for SA to use in its decision-making process.
Kryk was a student employee in the Office of New Student and Transition Programs office, served as an Orientation leader and Orientation assistant, a student mentor in the 3-1-3 Early Admission program and Fredonia Promise program, as well as a campus tour guide and pre-College Program intern. As an intern, Kryk assisted groups of students during campus visits.
The multiple ways that she was engaged in the campus resulted in Kryk being selected by the Office of Admissions to be its student speaker for Fredonia Exploration Day.
Kryk, also a recipient of an Arthur Maytum Scholarship established through the Fredonia College Foundation, developed and implemented a public relations campaign on behalf of a not-for-profit organization for a class project.
Despite graduating early, Kryk completed two Study Abroad experiences: in Peru, where she was a volunteer at an after-school program for children, and Belize, as a youth program coordinator, developing programming for at-risk youth in city high schools, with the Belize City Police Department.
Kryk completed internships at the Northern Chautauqua County Community Foundation, as a special events coordinator, the Boys & Girls Club of Northern Chautauqua County, where she assisted with events and programming, and at Greystone Nature Preserve.
In the community, Kryk helped raise over $2,500 to benefit local nonprofits that included the Northern Chautauqua County Community Foundation and Greystone, and worked as an unpaid intern for the Boys & Girls Club, where she organized and created program materials.
Kryk is a career specialist of business services at Chautauqua Works in the agency's Dunkirk and Jamestown offices. She organizes the on-the-job training program that connects job seekers with local businesses and assists with monetary obstacles that new hires may encounter during the training process.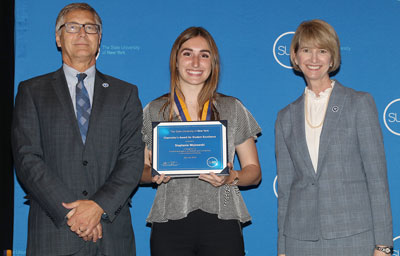 Wojnowski, a 2015 graduate of Eastridge High School, Rochester, and daughter of Jeffrey and Mary Wojnowski, has received numerous academic honors that include membership in Golden Key International Honour Society; Pi Delta Phi, the national French honor society; and Kappa Delta Pi, the national education society. She has received the following scholarships: Fredonia College Foundation, and its Ann James Manley, Jenny Crecraft Olsen, Thomas Goetz-Robert Rie, and Dr. Henry and Ida H. Youngerman scholarships, as well as a Golden Key International Honour Society scholarship.
Wojnowski spent a semester in France, where she enrolled in a full load of courses taught in French at Université Paul-Valéry Montpellier 3.
An accomplished athlete, Wojnowski is a four-year member, and also a team captain, of the cross country and track & field squads. A middle-distance runner, she placed fifth overall in her first outdoor State University of New York Athletic Conference (SUNYAC) track meet in the 3000 steeplechase and has the second-fastest time for this event in Fredonia history.
Wojnowski is a member of the National Student Speech-Language and Hearing Association, Student-Athlete Advisory Committee, Voices for Autism and Operation Smile, and also serves as a Study Abroad ambassador.
In the community, Wojnowski taught English to English as a Second Language (ESL) students through Literacy Volunteers of Chautauqua County. She has also volunteered at the Chautauqua Nursing and Rehabilitation Center, Fredonia Place, the Henry C. Youngerman Center Preschool and Lakeshore Humane Society. She is also vice president of the Fredonia chapter of Voices for Autism.
Fredonia finalists for the Chancellor's Award also included seniors Alexander Green, Monica Manney, Elinor Meyer and Kevin Yirinek.