SUNY Fredonia welcomes almost 1,100 new undergraduates
Nearly 1,100 new undergraduate students – representing a modest increase over last year's incoming class – are beginning the next chapter of their academic careers at SUNY Fredonia with the opening of the fall semester.
The campus welcomed 1,089 students, which included 224 transfer students, on  Aug. 19, the designated official "move-in" day for new students. Orientation activities also began Thursday and  continued throughout the weekend. Another 78 students have registered for graduate programs.
Returning students arrived during the weekend, ahead of the first day of classes on Monday, Aug. 23.
"They're an exceptionally gifted, diverse set of set of students, and are coming from not only all over New York state but from 20 different states, one U.S. territory and 13 foreign countries," according to Cory Bezek, executive director of Enrollment Services.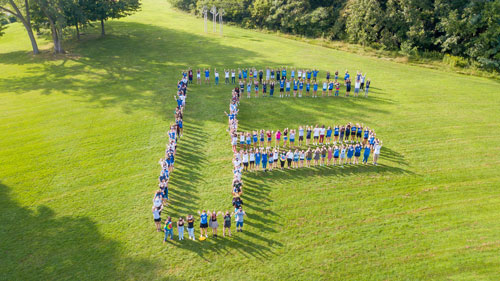 This is the first incoming class that's done its entire college search in the middle of a pandemic, Mr. Bezek noted. "They navigated a very complex search process, for which they should be commended."
In March 2020, Fredonia's entire admissions operation adjusted to a virtual format with minimal in-person interactions, Vice President for Enrollment and Student Services Cedric Howard said. "The Admissions office and other campus units met the challenge of the pandemic, and we are privileged to be introducing a diverse incoming class prime to make significant contributions."
Director of Admissions Dana Bearer described the 2020-2021 admission cycle as "like no other."
The great news, Ms. Bearer stated, is that many students have learned resilience and developed grit this past year. "I am so proud of our incoming class for having the courage to pursue their dreams of attending Fredonia and becoming a part of our vibrant community. Our students are looking forward to normalizing their lives again, and we will be here every step of the way to facilitate those dreams!"
A national marketing effort by the university netted a 21 percent increase in the number of out-of-state students. Helping to spur that growth was the Good Neighbor Award program, now in its second year, which reduces tuition for students from Pennsylvania and Ohio, making a Fredonia education more affordable than most public institutions in those states. Greater use of online searches and virtual experiences also helped grow out-of-state enrollment, Bezek noted.
"This shows that people are willing to travel for a quality education," Bezek remarked. "It shows that we're a destination campus."
The out-of-state students are from Alaska, California, Georgia, Idaho, Illinois, Kentucky, Maryland, Maine, North Carolina, New Hampshire, Ohio, Pennsylvania, Rhode Island, Texas, Virginia and Vermont, joined by Puerto Rico. Foreign countries include Cayman Islands, China, Colombia, Costa Rica, France, India, Japan, South Korea, Kuwait and Sweden.
In fact, Bezek indicated students in the incoming class will have collectively logged over 153,000 miles – nearly 152 miles per student – upon arriving on campus.
A look at the incoming class, by the numbers, shows: 89.1 average grade point average; 1200 average SAT, 27 average ACT, 12 valedictorians/salutatorians and 3.27 average transfer GPA. Merit scholarships have been awarded by Fredonia to 75 percent of these students. Nearly 30 percent are under-represented students.
"Our incoming class of 1,100 undergraduates is a testament to the dedication and commitment of the entire campus," Howard said.
The most popular academic programs among the students are Liberal Arts, Music Education, Psychology, Biology, Theatre Arts, Early and Childhood Education, Visual Arts and New Media: Animation and Illustration, Music Industry, Business Administration and Criminal Justice.
A wide range of facilities improvements that involve residence halls, academic buildings, athletic facilities and campus grounds have been made to prepare for the students.
The campus will be better lit at night with installation of new LED lighting fixtures between Alumni and Nixon halls and in the science quad, between Reed Library and the Science Center. LED lights are being mounted on taller poles and illumination is directed downward to cover a wider area.
New wiring, conduit and bases for the poles are part of a two-phase project to replace outdoor lighting believed to date back to development of the modern campus. Energy savings and lower maintenance costs will also be realized by the new fixtures.
Installation of the new lighting began in early August and is expected to continue into September. New lighting has also been placed elsewhere. Improvements have also been made to the Dods Hall gym, tennis courts, and baseball and softball fields.
Road and sidewalk improvements include the asphalt milling and paving of several roads, including University Parkway, and sidewalk repairs and replacement at various locations to provide ADA compliance and eliminate potential tripping hazards.
Academic building classrooms have been re-set to pre-COVID configurations to accommodate in-person instruction. Assorted repairs and physical improvements, along with painting and other routine maintenance work, have been undertaken at residence halls.
Major projects that began during the summer and will continue into the fall include the rehabilitation of the Maytum/Reed/McEwen Plaza and Reed Library exterior.