University hosts US Indoor lacrosse all-star student-athletes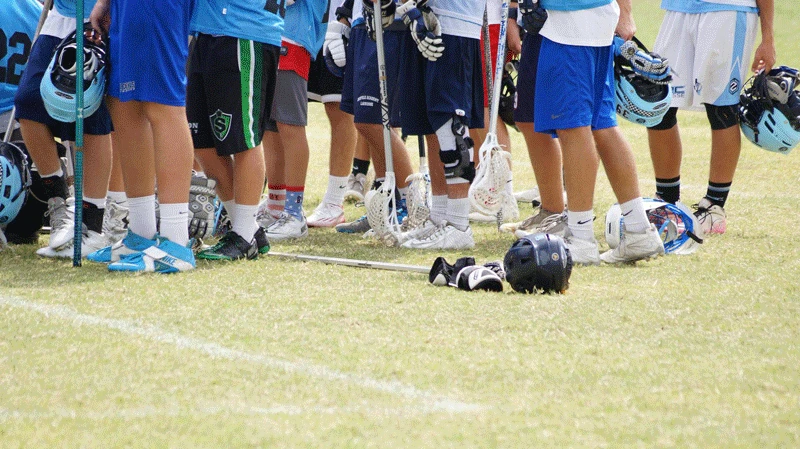 The journey taken by 26 student-athletes seeking to compete in the 2022 IIJL World Junior Lacrosse Championship included SUNY Fredonia, which provided living accommodations for a four-day tryout camp held at the SNI Cattaraugus Community Center in nearby Irving.
"We were in the approximate area where they wanted to be, based on the geographic footprint of the teams (represented at the camp)," said SUNY Fredonia Director of Athletics and Recreation Jerry Fisk. He originally began working with US Indoor Lacrosse President Graham D'Alvia to host a camp in 2020 that was canceled due to the COVID-19 pandemic.
Faculty Student Association Special Programs Manager Katie Thies teamed up with the Department of Athletics and Recreation and US Indoor Lacrosse to make arrangements to accommodate the camp in terms of lodging and food. "I worked closely with Graham to get the information that I needed, such as the number of players and their needs, and then with Residence Life staff to support the players and staff during their stay on the campus," Thies said.
SUNY Fredonia received high marks as a camp host.
"They loved it, and we've had conversations about bringing multiple camps here next summer," Fisk reported. "We were a good host and are good at hosting clinics, camps and other events. They thought it was a great set-up for them." US Indoor Lacrosse officials were also very complimentary of Thies, Fisk noted.
"It was a great fit for them to be able to be here at Fredonia given our proximity to their practice facility," Thies remarked. "It was a great partnership, and it was pretty exciting to have them here," she said, "as they prepare for the world championship. The campus is uniquely positioned and equipped to host a wide variety of organizations and activities, Thies added.
Practice sessions of the camp, held July 11 to 14, determined the final team roster of 23 players that will represent the United States at the IIJL World Junior Lacrosse Championship on Aug. 8-14 in Winnipeg, Canada. It was the final training camp after several tryout combines held across the U.S. starting in January.
"They had previously used the (SNI) Community Center and stayed in a hotel nearby, and thought it would be a better experience if they weren't staying in a hotel and to actually have a real host," Mr. Fisk noted.
The male student-athletes – between the ages of 18 and 20 – represented 10 states and were drawn from NCAA Division I schools that included undefeated 2022 national champion University of Maryland as well as Division 2 and 3 schools, Fisk said. During the camp they resided in Hemingway Hall and took their meals in Cranston Marché, the campus dining hall. Transportation between the campus and the community center was also provided.
"The university provided the players and the organization with a first-class atmosphere – for a team to become as good as it can be, a team must buy into what the coaches are doing and feeling, the players have to feel like they are a part of them and the coaches are part of the players." Mr. D'Alvia said.
"For us, it started and ended each day on campus, with the positive energy we received from the college. Jerry Fisk and his staff, simply made it easier to get better each day and follow the code all US Indoor Lacrosse Teams lives by 'WSS' – Work Ethic, System, Skill,'" D'Alvia stated.
Garnering such a strong endorsement opens the door for SUNY Fredonia to accommodate all components of future camps.
"One of their co-coaches, Casey Powell – one of the all-time great lacrosse players and a four-time All-American from Syracuse who has played lacrosse professionally and played on national teams – wants to bring a camp here next summer," Fisk said. "He's one of the most recognizable people in lacrosse."
Beyond revenue, what the camp also generates for the campus is exposure, Fisk said. "We've received a lot of social media kudos from US Indoor Lacrosse and the coaches, and that's positive publicity, even though the athletes who were here are likely headed to other campuses to play lacrosse," Fisk noted. SUNY Fredonia fields a women's lacrosse team, but not a men's team.
"They were a great group of young men," Fisk said. "It's fun to host a national team, regardless of the sport. We wish them well as they represent the United States in the upcoming World Championships."