Vanwesenbeeck to give 2020 Kasling Lecture, Dunham to receive Hagan
"African American Writing as World Literature," the Robert W. Kasling Memorial Lecture originally to be presented in 2020, will be given by Department of English Professor Birger Vanwesenbeeck, on Tuesday, Sept. 14 at 2 p.m., in Rosch Recital Hall.
The recipient of the 2020 William T. and Charlotte N. Hagan Young Scholar/Artist Award, Department of Physics Assistant Professor Michael Dunham, will also be recognized at the ceremony that was postponed last year due to the coronavirus pandemic. Fredonia President Stephen H. Kolison Jr. and Dean of the College of Liberal Arts and Sciences Andy Karafa will present the awards.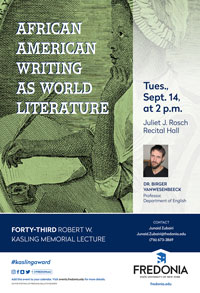 Dr. Vanwesenbeeck will topple two concepts that have dominated African American studies: the linguistic imperative that to be free is to write and speak English and the idea that racism and racial identity are primarily matters of not seeing.
"In my lecture I will upend both notions, drawing attention to the counter-tradition of African American writers for whom hearing, not seeing, is at the heart of their subversive poetics, and for whom English – the Master's discourse – is but a poor substitute for the cornucopia of African languages lost in the Middle Passage," Vanwesenbeeck said.
"How does one bear witness to the linguistic toll of slavery? What does it mean to make heard (rather than seen) what by definition eludes one's contemporary Anglophone ears and tongue? Is it possible to mourn in translation?"
These suggestive and provocative questions are explored in the works of Phillis Wheatley, the first published African American writer; W.E.B. Du Bois, a theorist and NAACP co-founder; and contemporary novelist Colson Whitehead.
"Theirs is a body of work in which loss, not liberty, appears as a central preoccupation, and which, in their various attempts to make the English language reverberate with what they can no longer say otherwise, constitutes the privileged site where American writing enters the realm of world literature," Vanwesenbeeck said.
The relationship between literature, language and loss is central to the scholarship of Vanwesenbeeck. His scholarship has appeared in or will soon to be seen in peer-reviewed journals that include Comparative Literature, Pynchon Notes and Twentieth-Century Literature."
Vanwesenbeeck is a co-editor of "William Gaddis, 'The Last of Something," and co-editor of "Stefan Zweig and World Literature: Twenty-First Century Perspectives." He is the first member of the Department of English to receive both the Hagan Young Scholar/Artist Award and present the Kasling Lecture.
Vanwesenbeeck has a Ph.D. and M.A, both in Comparative Literature from the University at Buffalo, and a B.A. in Germanic Language and Linguistics from the University of Antwerp. Prior to joining Fredonia in 2007, Vanwesenbeeck was a Fulbright Senior Visiting Lecturer at Boğaziçi University, Istanbul, and an assistant professor of American Literature at Université Laval, Canada.
The Kasling Memorial Lecture is named for Robert W. Kasling, professor of geography at Fredonia from 1946 to 1966, who is remembered for unflinching personal integrity and a high standard of scholarship. In honor of the contribution which he made to the institution, SUNY Fredonia invites a distinguished member of the faculty, one whose scholarly excellence has enhanced the reputation of the university, to share with the entire Fredonia community an insight into the nature and significance of research or creative activity in his or her field. The lectures, focused on explaining the methods, purposes, and results of a particular area of scholarship, are intended to broaden the understanding of research being undertaken at Fredonia.
Dr. Dunham's research and scholarship lie in observational studies of star and planet formation. In his academic work, Dunham detects, characterizes and studies stellar systems in the youngest stages of formation, when they are still actively gaining mass from their surroundings and either not yet forming, or just beginning to form, planets.
"One of the major unsolved problems in stellar astrophysics is understanding why the distribution of stellar masses is invariant throughout the universe, and one of the key challenges to making progress in this area is the fact that we still don't fully understand why a single star forms with the mass it has," Dunham explained. "My research is focused on revealing how multiple physical processes come together to set the masses of stars."
Dunham is a co-author of more than 100 refereed articles – including 44 since arriving at Fredonia five years ago – that have appeared in top tier astronomy journals. He also conducts public astronomy nights at the Science Center's rooftop observatory and supervises student research projects using its telescope.
Dunham has a Ph.D. and M.A., both in Astronomy, from the University of Texas at Austin, and a B.S. in Physics and Astronomy from the University of Rochester.
The Hagan award, named in honor of SUNY Distinguished Professor Emeriti William T. Hagan and his wife, recognizes an individual who has made outstanding achievements in research or creativity.