Veteran sets her sights on medical career with help from scholarship
SUNY Fredonia junior Heaven Rollek, a member of the women's basketball team, is the recipient of the 2019 Fredonia Veterans Scholarship, established through the Fredonia College Foundation.
A native of Springville, and 2015 graduate of Springville-Griffith Institute, Ms. Rollek has served three and a half years in the U.S. Navy and holds the rank of Petty Officer Electronics Technician 2nd Class. She returned in April from a deployment to the Middle East and will begin a second deployment in April 2020.
The $1,050 award – announced Nov. 8 during the Veterans Remembrance Ceremony at the Williams Center – was made following a review of several applications and a face-to-face interview with the Fredonia Veterans Remembrance Committee.
"Heaven was called in for an interview," Committee Co-chairman Jeff Walter said, "because her essay caught everyone's attention. During the interview, she was very confident, relaxed, and answered the questions in a humbling way. I think she was so confident because of her last deployment and all the training she has gone through."
"Taking a year off from school for deployment," Rollek said, "was a hard decision to stand by. But coming home and being welcomed back with open arms by all of Fredonia and being granted an opportunity for the scholarship made my transition back to a school setting that much easier."
Mr. Walter, who works as catering manager for the Faculty Student Association on campus and also holds the rank of Senior Chief in the U.S. Navy Reserves, said Rollek comes across as someone who puts the needs of others before her own. "She has accomplished so much in a short period of time," he said, "as a young person and a young sailor. Heaven has it all – academics, athletics and military bearing, honor, courage and commitment, and a great future."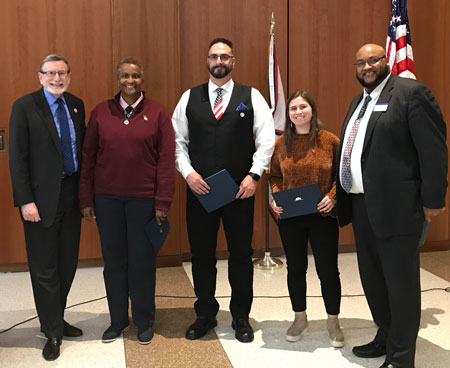 It's a sentiment shared by Women's Basketball Head Coach Sarah Cartmill. "Heaven has been a welcome addition to the team this season," Ms. Cartmill said. "She brings a leadership and maturity that will help us during our improvement this season. (She) is selfless and puts the team first, making her a great teammate and someone we all respect and appreciate, on and off the court."
In addition to playing women's basketball for the Blue Devils, Rollek is also a member of the Black Horse Rugby program. She is majoring in Biology, minoring in History, and planning to pursue medical school to become a surgeon in a neonatal intensive care unit.

"I'm grateful," she said, "for every opportunity Fredonia has given me and I'm thankful for the team always standing by me and supporting my military life."