Woods reaches milestone in SUNYAC loss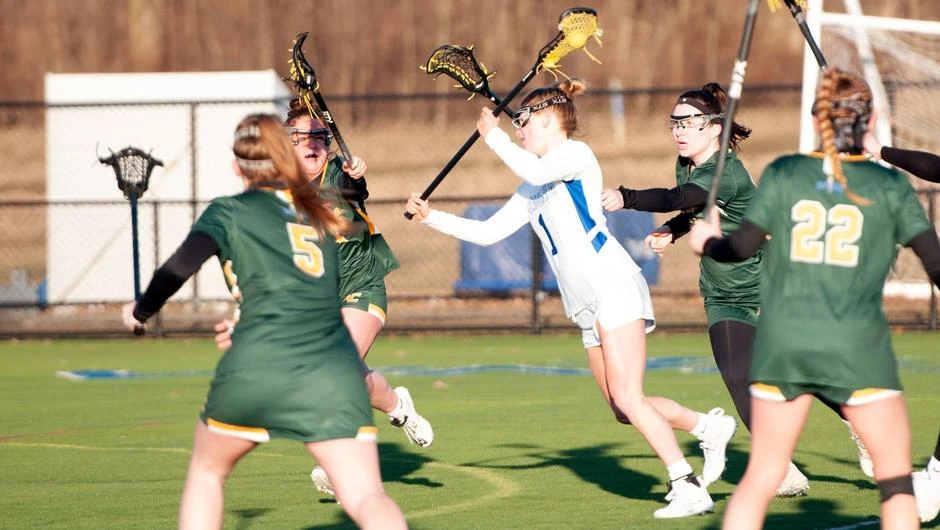 The Fredonia State women's lacrosse team dropped their first SUNYAC matchup this season against SUNY Oneonta on Saturday, with a final score of 17-6.

The Devils started the matchup slowly with the Dragons scoring three goals within the first five minutes of the game. With wind and rain conditions worsening throughout the game, Fredonia State kept pushing back, drawing nine fouls and obtaining five free position shots with Erin Woods putting up a pair of goals to close out the first quarter.

Oneonta would not slow down on offense, putting up 21 total shots in the first half and scoring 10 goals. Erin Woods was the lone scorer for Fredonia in the second quarter, completing her hat trick before the half.

Megan Foiles for Oneonta then went on to score a hat trick in the third, her second of the game. Cailin Karalus and Sydney Buchko both added goals to the board in the second half, but the quick start for Oneonta is what helped them hold down the Devils.

Emily Carr finished the game with 14 saves for Fredonia and Courtney Gallagher had 11 stops for Oneonta.

Woods also reached the 100-point plateau for her career during the game.

The Blue Devils will travel to SUNY Oswego on Wednesday, March 29, as they take on the Lakers at 4 p.m.