Woodwind faculty member in spotlight at Fredonia ensemble concert
Barry Crawford, a guest soloist who has performed in major concert halls across the United States and is an assistant professor in the School of Music, will be featured in Mower's "Concerto for Flute and Wind Orchestra," the highlight of the Fredonia Wind Ensemble concert on Wednesday, Nov. 20.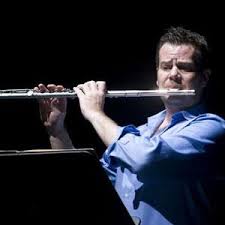 The concert in King Concert Hall begins at 8 p.m. and is free and open to the public.
A New York Times review recognizes a "precision and warmth" in Mr. Crawford's playing, while the New York Sun describes him as "a musician with guts" who delivers a "robust flute sound."
Ensemble Director Paula Holcomb credited Crawford with bringing an international performance background, as well as extensive teaching experience, to the School of Music.
"His dynamic, colorful tone promises to capture the audience," Dr. Holcomb remarked.
Crawford has served as a soloist, chamber player, recording artist, flute teacher and orchestral musician. Concert halls where he has performed include Boston Symphony Hall, Kimmel Center in Philadelphia, Symphony Hall in San Francisco and Symphony Center in Chicago.
A founding member of the Jupiter Symphony Chamber Players and principal flute of the Western New York Chamber Orchestra and Spectrum Symphony in New York City, Crawford has played in numerous international music festivals, in Buffalo, Italy, Puerto Rico, Norway and Turkey.
Crawford previously served on the faculties of the University at Buffalo, Sarah Lawrence College and Brooklyn College Conservatory of Music. He studied at Stony Brook University, Purchase College Conservatory of Music and the Mannes College of Music, where he received an M.M. and a Professional Studies Diploma.
The Fredonia ensemble will open the concert with the classic wind band work "Lincolnshire Posy," by Percy Grainger, and conclude with "Winds of Nagual," by Michael Colgrass, a work inspired by the writings of Carlos Castaneda resulting in music from mariachi bands.