Zoom talk to frame abortion, Roe v. Wade, in U.S. history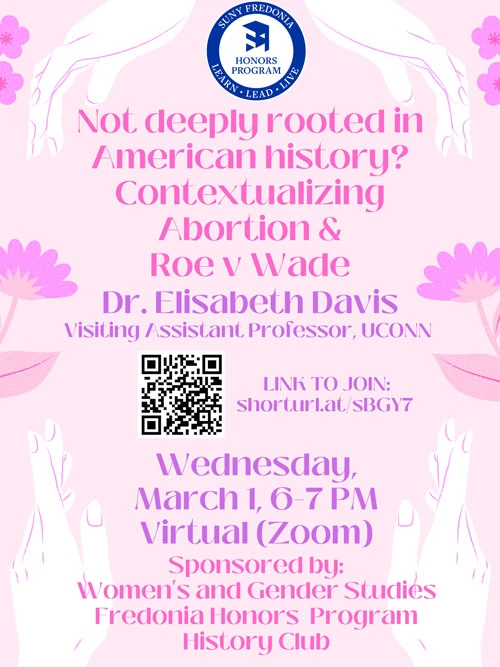 A virtual talk, "Not Deeply Rooted in American History? Contextualizing Abortion and Roe v. Wade," will be presented by University of Connecticut Visiting Assistant Professor Elisabeth Davis to open the campus observance of Women's History Month on Wednesday, March 1, at 6 p.m.
The United States Supreme Court overturned the 1973 landmark court-case, Roe v. Wade, in 2022, placing the question of abortion firmly within the American zeitgeist. The talk contextualizes the long history of abortion in the United States, from colonial times to the present.
Dr. Davis, a former member of the SUNY Fredonia Department of History faculty, is a member of the Department of History at the University of Connecticut.
The talk is free and co-sponsored by the Fredonia Honors Program, Women's and Gender Studies and the History Club, with funding in part through the Dr. Virginia Schaefer Horvath Endowment for Honors Program established through the Fredonia College Foundation.
Join Zoom Meeting online: