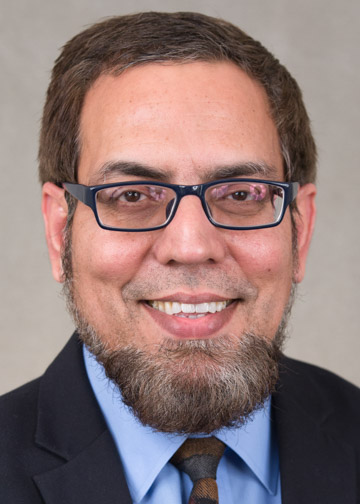 Dr. Junaid Zubairi
Professor (Chair)
Fenton Hall 2151
716-673-3869
Junaid.Zubairi@fredonia.edu
Ph.D., Syracuse University
I received BE (Electrical Engineering) from NED University of Engineering, Pakistan and MS and Ph.D. (Computer Engineering) from Syracuse University, USA. I worked in Sir Syed University Pakistan and Intl' Islamic University Malaysia before joining State University of New York at Fredonia.
Teaching Interests
Computer architecture, Computer networks, Operating systems, Introduction to programming, web design, Computer graphics
Research Interests
My current research interests include network traffic engineering, performance evaluation of networks, network applications in medicine, aviation and cyber security.
Awards and Honors
Kasling Memorial Lecture award, SUNY at Fredonia (2019).
Chancellor's award for excellence in scholarhsip and creative activities, State University of New York (2018).
High Achievement Award, WNYMuslims, NY Senator Tim Kennedy (2017).
Presidential Award for Exceptional Service, American University of Ras al Khaimah (2015).
Professional Memberships
Institute of Electrical and Electronic Engineers
Contracts, Grants, and Sponsored Programs
"Computer Science, Mathematics, and Physics Scholarships (CSMAPS) ," SUNY Fredonia (2017).
"SUNY RSCA Summer research award," SUNY RF (2020).
Intellectual Contributions
"Optimal Management of Solid Waste in Smart Cities using Internet of Things," Springer Journal of Wireless Personal Communications Jan'2020 (2020).
"Your Flight Data is on Us!!," IEEE Nov'2019 (2019).
"Efficient Waste Transportation and Recycling: Enabling technologies for smart cities using the Internet of Things," IEEE Electrification Magazine Sept 2019 (2019).
"IoT based Ambulatory Vital Signs Data Transfer System," Journal of Computer Networks and Communications (2018).
"Experiments in Routing Municipal Vehicles," IEEE 16th HPCS conference (2018).
"Smart Patient Assignment Algorithms for Disasters," Elsevier ICT Express journal (2018).
"Optimizing Scheduling and Management of Solid Waste in Smart Cities," Journal of the operational research society (N/A).
"Novel Schemes for Traffic Engineering in Access Domains," Wiley International Journal of Network Management (2007).
Intellectual Property
Flight Data Tracker (FDT). Patent (2017).
Presentations
"Invited Talk on IoT Smart City Applications," HONET-ICT 2018 (2018).