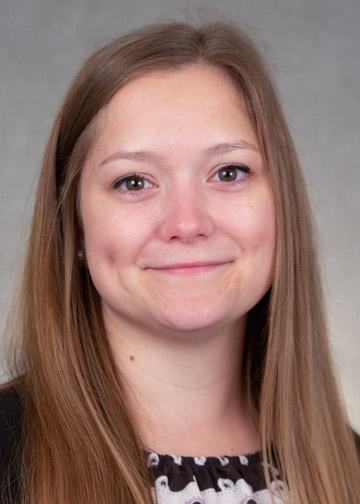 Dr. Jessica Finkeldey
Assistant Professor
Thompson Hall
716-673-3421
Jessica.Finkeldey@fredonia.edu
Ph.D., Bowling Green State University
Office Hours
By appointment
Teaching Interests
Introduction to criminal justice; criminology; corrections, capital punishment.
Research Interests
Predictors and consequences of antisocial behavior and contact with the criminal justice system
Professional Memberships
Society for the Study of Social Problems
American Society of Criminology
American Sociological Association
Contracts, Grants, and Sponsored Programs
"Faculty Summer Research, Scholarship, and Creativity Awards," SUNY Fredonia (2020).
"Open Educational Resource (OER) Course Redesign Incentive," SUNY (N/A).
"LoudCloud Courseware Faculty Mini Grant Program," Barnes and Noble (2018).
Intellectual Contributions
"Confounding Bias in the Relationship between Problem Gambling and Crime," Journal of Gambling Studies (N/A).
"Parental Incarceration during Adolescence, Secondary School Resources, and Depressive Symptoms in Adulthood," Social Currents (N/A).
"Social Class Differences in the Relationships between Problem Gambling and Deviance," Criminal Justice Studies (N/A).
"Identifying as a Troublemaker/Partier: The Influence of Parental Incarceration and Emotional Independence," Journal of Child and Family Studies (2020).
"Multilevel Effects of Parental Incarceration on Adult Children's Neighborhood Disadvantage," Social Problems (2020).
"Trust Across Culture and Context," Journal of Cognitive Engineering and Decision Making (2019).
"Adolescent Male Sports Participation and Violence in Emerging Adulthood: Examining Variation by Gender-Typed Behavior," Deviant Behavior (2019).
"Race/Ethnicity, Perceived Skin Color, and the Likelihood of Adult Arrest," Race and Justice (N/A).