Sport Management Testimonials
Jack Markwardt 2012: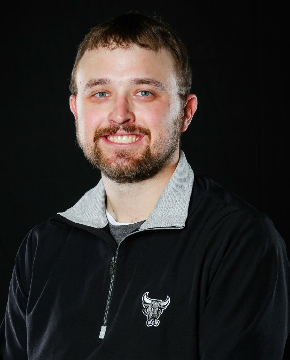 Assistant Equipment Manager, San Antonio Rampage (American Hockey League)
SUNY Fredonia gave me a great opportunity to jumpstart my career in the sport management field. From the classes I took, to the outstanding support from faculty, staff and athletic department, Fredonia gave me the education and hands-on experience I needed to achieve my goal. My internship as equipment manager for the NCAA Blue Devils hockey team and strong continued support from Coach Meredith enabled me to achieve my goal of landing a job in Equipment Management for the San Antonio Rampage, a professional hockey team in the American Hockey League. San Antonio is an affiliate of the N.H.L's Colorado Avalanche. I'm extremely grateful to Fredonia for launching me on to an awesome career.

Amanda N Ruthman:

The Sport Management program at Fredonia serves as the foundation to my career within the sport industry. Like many college freshman, I started college completely unsure where I wanted to be in the future - but I loved sports. After three quick years of learning, exploring and growing, I found my place. The concepts that I learned in this program continuously show through in my work today. Overall, there are three main components that made my time at Fredonia so incredible: the personnel, the program, and the commnity.
Receiving proper guidance and establishing connections throughout the industry is very important in sports. It's about who you know, and getting your foot in the door. The willingness of professors, mentors, and alumni to provide these sources for you at Fredonia is never-ending. Just a few of the areas you can explore include: Management, Communications, Marketing, Coaching and more. There is always a connection available, or you can go beyond and explore your own! This gives you a true advantage as you try to find your place. They are there to help you succeed, so you can continue the Fredonia tradition.

As for the program itself, the flexibility allows for a personalized experience. It includes a self-determined internship - which means you can tailor the program specifically to your dreams. During my time at Fredonia, I interned with the Erie Otters, because I enjoy hockey, but I also finished my degree early, because I could! I took classes at the pace I wanted to, and my professors were behind me every step of the way. I wouldn't be where I am today without that flexibility and support.

What stands out about Fredonia, beyond the people and the academics, is simply how beautiful it is. When I started touring campuses in high school, it immediately felt right, and the search was over. Walking through campus you consistently come across happy, smiling faces. You feel comfortable walking into town, wandering through the community, and exploring nearby attractions. Fredonia truly has a unique way of making you feel welcome, and right at home.

Utilizing Fredonia's Sport Management program resources allowed me to finish my degree, go forward to secure two professional internships, and have a seamless transition into graduate school. Currently working within collegiate athletics, I frequently rely on the knowledge I gained, as well as the experiences I had, during my time at Fredonia. Plus, there's no connection quite like learning someone else is also a Fredonia alumni!
Katelyn Cuddahee
I can't even begin to explain the amazing experience I had at Fredonia in the Sport Management Program. Each professor had different knowledge of the field which shaped me into the person I am today. The classroom sizes were perfect making it easy to have a student/professor relationship. One of the things I'm going to miss about Fredonia is being able to see one of my professors outside the classroom and being able to strike up a conversation with them; sometimes not even school related.
The coursework in the program gave me the skills and knowledge I needed while partaking in my internship. It was easy to find an internship, as well and I know I will use the things I learned during it further down my career path.
I knew that I wanted to become a part of the Fredonia community as soon as I stepped on the campus during an open house. Everyone seemed so friendly. Every professor here wants to see you succeed and they will help in any way that they can. One word of advice I have for incoming freshman is to cherish the time that you have at Fredonia. You only spend four years here, but the memories made will last a lifetime.