Throughout the academic year EDP recognizes several of its first-year students as "Featured First Years." The EDP staff accepts all nominations and selections are based on any special achievements and/or contributions of the nominee. Students' pictures with their personal reflections of Fredonia and EDP are posted on E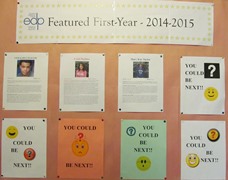 DP's Featured First-Year board and students receive a FSA gift card. The EDP staff makes the final selection. Featured First Years were initiated in fall 2011.

What makes a Featured First Year?
JEWEL leadership award
Being on the Dean's List
Community service (such as Community Blood Bank, Fall Sweep, Boys & Girls Club, etc.)
Performing in a campus production
Helping EDP
etc.
2017-18 Featured First-Years:
Wesley Cruz, Asha Knight, Kevin Matos, DeQuan Williams,
Abdullah Yusuf
2015-16 Featured First-Years:
Tommy Linares, Esther Hidalgo, Briannie Garbey, Edward Santos,
Coral Dentice
2014-15 Featured First-Years:
Geraldo Celeste, Cristi Paulino, Mary Kay Taylor, Natselyne Peralta,
Wascar Almonte, Dontae Matthews, Jamichael Frazier
2013-14 Featured First-Years:
De'Sean Cruz, Danielle Dean, Shayla Lipscomb,
Amanda Gusmano, Eduvijez Sanchez

2012-13 Featured First-Years:
Sharrell Halley, Nia Drummond, Cassidy Fritsch
Jennifer Garcia, Emmanuel Guzman, Tieliek Curry

2011-12 Featured First-Years:
Rachael James, Briana Lawall, Glenn Hillman,
Luisa Bonilla, Johnathan Sales, Benjamin Soto-Soto