Coming of Age: Fredonia senior Steve Moses wins 'Big Brother 17' on CBS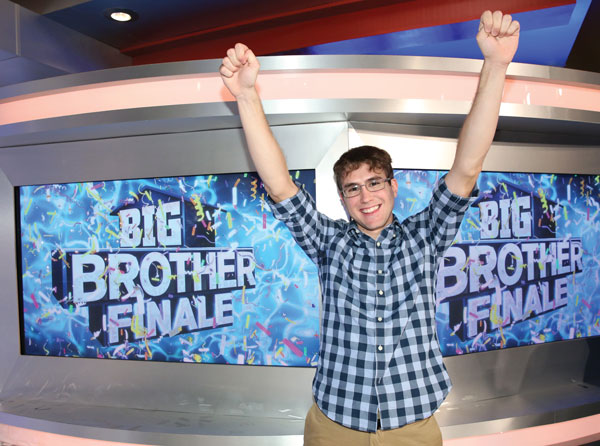 On Sept. 9, Steve Moses let the world in on a little secret: he's not like everybody else.
Of course, if you had been watching Season 17 of "Big Brother," the long-standing CBS reality TV show on which Mr. Moses had been a contestant for the last 83 days, this probably didn't come as a surprise.
The 22-year-old Fredonia student had steadily played — and even embraced — the role of a naïve young adult, finding his way despite, in his words, his "complete lack of social skills." Each week, during the show's opening montage, he jokingly pushed up his glasses, acknowledging that he was the "nerdy" contestant this season.
Nerdy? Sure. The Sound Recording Technology major with a concentration in Brass is a former Ivy Leaguer, who transferred to Fredonia after initially pursuing an engineering degree, because he wanted to incorporate music into his life more. But those on campus who know Steve knew there was nothing naïve about him.
"Steve is exceptional," said School of Music Professor Paula Holcomb in a June 24 Dunkirk Observer article, after he was named a contestant. She described him as being very intelligent, with an incredible imagination. "And he's a phenomenal musician," she added, "…very enthusiastic about things, but with that enthusiasm comes an expertise that's pretty amazing."
Now, here was Moses on Sept. 9, a long way from his home in Gouverneur, N.Y., or the two-minute casting call he attended in Batavia, N.Y., last spring. Surreally, he was in California, among the final contestants. And as he began writing for the show's blog after winning one of its "Head of Household" competitions (which meant he was safe from the next "eviction" vote), the first thing he wanted everyone to know was how much he had wanted this experience.
"Every 10-year-old dreams about what they want to do when they grow up," he wrote. "Most dream about becoming an astronaut, the president, or an athlete."
But not Steve. He wanted to be on "Big Brother" — and he'd been dreaming of auditioning ever since.
"It's just kind of been one of those constants I've had throughout my entire life," explained Moses, who had been counting down the days until he reached its eligibility (age 21).
He got hooked on the show during Season 6, falling in love with its concept instantly: take a bunch of total strangers, place them in a house under 24-hour surveillance for three months, and completely cut them off from the outside world. No phones. No family. No media. No Internet. And one by one, the players have to "evict" (vote off) a fellow "house-
guest," until just two remain.
Steve loved the show's strategies, the surprises it sprung on its contestants, and the physical and mental demands it placed upon them. Season 17 contained many twists and turns of its own, including guest appearances by comedian Kathy Griffin and pro football star Rob Gronkowski. A pair of twins competed as one for the first part of the season, switching every few days between the house and a sequestered location off-site, before eventually competing separately. Other notable contestants included the series' first transgender contestant, a professional wrestler and one of the world's top five female poker players (who wisely hid her identity throughout).
Moses quickly discovered he would get everything he bargained for.
"It's challenging because you have to be 'on' for 98 days," which was required for those who make it all the way to the end. "You can be asleep at 6 a.m., and there can be people up and plotting against you."
Of course, Steve never planned to have to be "on" for all 98 days, because he didn't expect to do well, due to his social awkwardness.
"Transferring to Fredonia was an absolute social nightmare," he wrote in his blog. "I finished my first semester [and discovered] the peers who viewed me most positively found me [to be] highly obnoxious. I've spent the last two years thinking I had the social skills of a newt."
He wasn't alone.
"I remember a conversation I had with my mom where she told me, 'I love you very much, but you're not going to make Jury,'" he added.
The Jury is comprised of the third through 11th place finishers who vote on which of the final two should win. With 17 houseguests, neither he nor his mother — Kathleen (Wilson) Moses, a Music Education graduate from Fredonia's Class of 1977 — expected him to make it beyond the first six evictions.
But that was just fine, Steve insisted. He wasn't there to win. For him, making it on the show was the only victory he sought.
"…That feeling I got when I first saw the stage and the front door of the house, nerves dancing down my spine, is probably the single-most powerful emotional experience I've ever had," he said. "It was a moment I'll always remember and be grateful for."
Nonetheless, he began exceeding expectations with a strategy of staying below the radar and forming alliances with some unlikely competitors, including the pro wrestler and the poker pro — of whom Steve was correctly suspicious. ("I would not be in the least bit surprised to find out she has a huge secret about her outside life she hasn't told us," he wrote in the blog).
"My strategy going in was to lay low, throw competitions, don't let people think I'm competitive, and get at the bottom of the major alliance. Nobody would have any reason to target me," Steve revealed to CBS co-host Jeff Schroder after the finale. "You don't have to be [each house guest's] closest friend, as long as you're not their target."
That strategy earned him a spot in the final episode on Sept. 23 — and the crowd of Fredonia students, faculty and staff who filled the Williams Center's Multipurpose Room that night to cheer him on. The group, donning t-shirts, hats and other Fredonia "swag" — just as Steve had throughout the show — waved signs of support, including the Twitter-trending "#trombonists," which he made popular during his run.
Steve admits it was surprising and humbling to learn, after the fact, about all the support he received on campus, and the similar outpourings and viewing parties back home in Gouverneur.
"I was worried about people being upset with me for bailing on the fall semester. I had several commitments I couldn't go through with," he said. "I couldn't have been more wrong. So many people were so supportive and excited. It was a very, very pleasant surprise."
By the end of the night, Steve was crowned the champion, which carried with it a grand prize of $500,000 in addition to the fame and "alumni" status that many of the show's cast have enjoyed throughout the years.
So what's life been like for Steve since that day? He says he's just trying to become a regular person again. He's spent the last couple of months at home with his mom, and his father, Ron, from whom Steve gained a valuable sense of perspective that kept him going throughout the competition.
"When my dad was my age, he was serving our country in Vietnam — and his life was literally on the line," Steve explained. "But for me, the worst thing that could have happened is that a bunch of people would say, 'I vote to evict Steve.' There was always a battle to keep the game in perspective and not worry about things that were outside of my control. It's hard to maintain that perspective because the game is literally the one and only thing going on in your life."
As Steve prepares to graduate this May, he's been completing some graduate school applications. Of course, the humor of his unique situation is not lost on him, as he shared in a recent tweet: "That awkward moment when a grad school asks what I did last summer…"
Unlike many contestants over the years who have used the show as a chance to break into the entertainment business, Steve doesn't intend to alter his education path or career plans, although he admits the money will help make those dreams come true more easily.
"I'm just a huge fan of the show. I wanted the chance to play the game for myself, and I never saw it as anything more than that," he said. "This was not a stepping stone. This was a unique and isolated opportunity."
That opportunity included one additional prize for Steve — something he didn't even know he could receive when the show began.
"This experience…has been absolutely amazing for my social confidence," Steve realized at the conclusion of his Sept. 9 blog entry. "No matter what happens from this point on in the game, I can leave with my head held high, knowing that I do have the social skills to make friends and get around in the world; and that's a really good feeling."