'Bald for Bucks' back on campus
The buzz of hair clippers will be filling the Williams Center Multipurpose Room for the seventh year in a row for Sigma Phi Epsilon and Sigma Gamma Phi's Bald for Bucks event. The annual event to raise money for Roswell Park Comprehensive Cancer Center will be Saturday, March 2, from 6 to 8 p.m.
"Anyone who signs up and registers has the option of having their head shaved, styled, or opting to only fundraise if they desire." said Tommy Lancie, senior Political Science major and vice president of Sigma Phi Epsilon.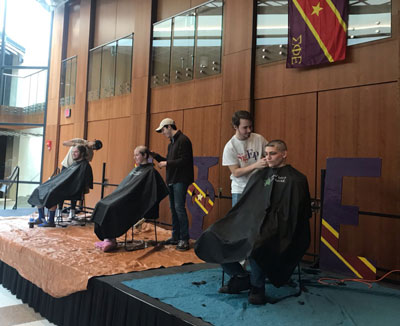 Sigma Phi Epsilon President Michael Clark said they have been fundraising for a month leading up to the big night. "It all goes to Roswell Park's research and supporting patients who can't afford their bills," Clark said.
"Sig Ep is hosting and Sigma Gamma Phi is helping out with planning and getting more people involved, trying to raise as much money as possible," said Franci Branciforte of Sigma Gamma Phi.
"We can't forget our other partner though," said Clark, "Lisa Newell. She is amazing."
"Not only that," said Branciforte, "She's going to cut her hair too. She's been incredible for us."
Director of Student Conduct, Ms. Newell said, "I've always wanted to donate my hair to this great cause."
In 2017, Newell started growing her hair out asked Lancie if she could join in the event with Sigma Phi Epsilon. Lancie said it would be great to have a staff member participate.
"I initially set my fundraising goal at $100, which is what the students set theirs at. But once I sent out the information to friends and family, I quickly raised close to $2,000," Newell said. "I donated eight inches of hair in 2017."
Newell said this year, as of Feb. 25, she's raised $2,210 and hopes to cut somewhere around 10 inches of hair.
"The students involved in the planning and implementation of this program do an outstanding job," said Newell. "Everyone agreed that with a wider variety of groups helping put the program together, they'd be able to gain a large presence at the event and maybe even a larger fundraising goal. My family is coming to attend the event this year, as they did in 2017, and it's always exciting for them to meet students and be on campus."
Clark said this is the first year that two groups have joined forces to rally funds and plan the event. Each year though, Bald for Bucks at Fredonia has grown.
"We've seen an increase in the amount of donations we receive," said Lancie, "The first year, $1,500 to $2,000, incrementally up to around $5,000 now."
"Isn't that crazy? We're so excited about it," said Branciforte.
To start the night, Lancie said, "I will get on the mic and do an introduction, the representative from Roswell will speak, then we will have the participants come up four or six at a time. Some people will be getting their head shaved, some people will get their hair trimmed and some people will get their beards shaved."
The organizers said Bald for Bucks always has the power of inspiration on people. Even if they originally thought they were just poking their head into the MPR to see what's going on.
"There's always people who come and watch," Lancie said, "Then people who decide right there, 'Okay I want to shave my head for this.' We can have anywhere from 10 to 30 people decide right there to get their head shaved."
That inspiration was something that Branciforte experienced firsthand.
"When I ended up cutting my hair it was just because Lisa Newell had cut her hair, and another girl from another organization cut her hair and I was like, 'You know what, I'm inspired, I want to give back to this.' And other people end up shaving their head for the same reason," Branciforte said. "It's nice to all be there supporting the same cause." Branciforte said she will be getting her haircut again, making this her fourth time.
Not everyone who attends the event has to cut their hair, though. "A lot of people are just there raising money and don't actually want their head shaved," said Lancie.
The organizers said that participating in the event and raising money for Roswell Park is even more gratifying because of the realization of just how many people cancer touches, and how many people rely on Roswell Park for treatment and research.
"My aunt texted me the other day and said, 'We took your grandpa to Roswell Park for a second opinion because they're the best of the best,'" said Branciforte, "That just made me feel so special, that I'm helping out with that."
"It's the fact that we're able to contribute to something that's so big and so impactful and so important, it's very humbling," Lancie said.
"I think everyone knows someone either with cancer, someone who has had cancer or knows someone who knows someone who had cancer, so it is emotional for sure," said Branciforte
That emotion and cancer's impact on just about everyone is why Lancie said, while he has seen people on the fence about whether or not to cut their hair, he has never seen anyone, once they finally did cut their hair, regret it.
"This is the absolute least we could do for something so important," Lancie said, "I wish we could do so much more."
Those who wish to join the Fredonia Bald for Bucks team can register online and go to "Join Team."