Alberto Rey alumni exhibition set to open in Niagara Falls art center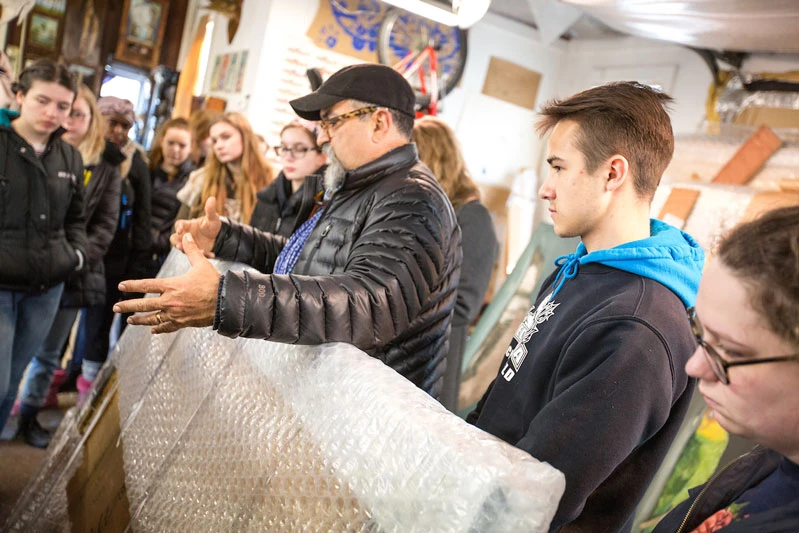 An opening reception for a new exhibition, "COHORT: An Alberto Rey Alumni Exhibition," will be held at the Niagara Arts & Cultural Center, 1201 Pine Ave., Niagara Falls, on Sunday, May 21, from 2 to 4 p.m.
"COHORT," located in Townsend Gallery on the center's first floor, presents the artistic practices of more than 30 invited SUNY Fredonia alumni who were taught by SUNY Distinguished Professor Emeritus Rey during his career, 1989-2022. SUNY Fredonia alumnus Tricia Butski curated the exhibit that will be supplemented by works of Mr. Rey that span the same years.
Participating artists include: Audrey Bialke, John Colin Caisley, Ken Clause, Rory Coyne, Rachel D'Alfonso, Ally Demski, Dylan England, Kaitlin Frisicaro, Justine Gabreski, Daniel Galas, Veronica Gray, Carter Hopkins, Anthony Leone, Keri Manne, Stephanie McDonnell, Hanna Neumann, Sarah Peck, Kayla Prigg, Lizzie Reid, Erin Ruffino, Jennifer Ryan, Jimmy Scamacca, Madison Spear, Caitlin Sweet, Dana Murray Tyrrell and Jess Whittam, among others.
Alumni artists with current ties for SUNY Fredonia participating in the exhibition include: Christopher Dorner, a senior majoring in Visual Arts and New Media: Drawing and Painting, adjunct instructor Nick Borelli and instructional support associate Tom Makovitch. Former adjunct instructor Raymond Bonilla will also participate.
Rey is part of the Living Legacy Project at the Burchfield Penney Art Center. Hear Rey's artistic interview using the link. For more information on the Living Legacy Project and Rey go online
Rey's artwork can be found in the collections of the Buffalo AKG Art Museum, Brooklyn Museum, Burchfield-Penney Art Center, Castellani Art Museum and the Museum of Latin American Art, among others.
Concurrently on view with this exhibition is the Castellani Art Museum's exhibit of new artwork by Rey: Biological Regionalism: Niagara River, Canada / USA. Visitors are encouraged to see both exhibitions.
The NACC's exhibition series is sponsored by The New York State Council on the Arts, in partnership with the Niagara Arts & Cultural Center, The Niagara Falls National Heritage Area, the Community Foundation of Western New York, KeyBank and the John R. Oishei Foundation.
"COHORT" can be viewed until July 8. The gallery is open seven day a week, 10 a.m. to 5 p.m. There is no admission fee for the gallery.