Architectural artist named 2021 Marion Fellow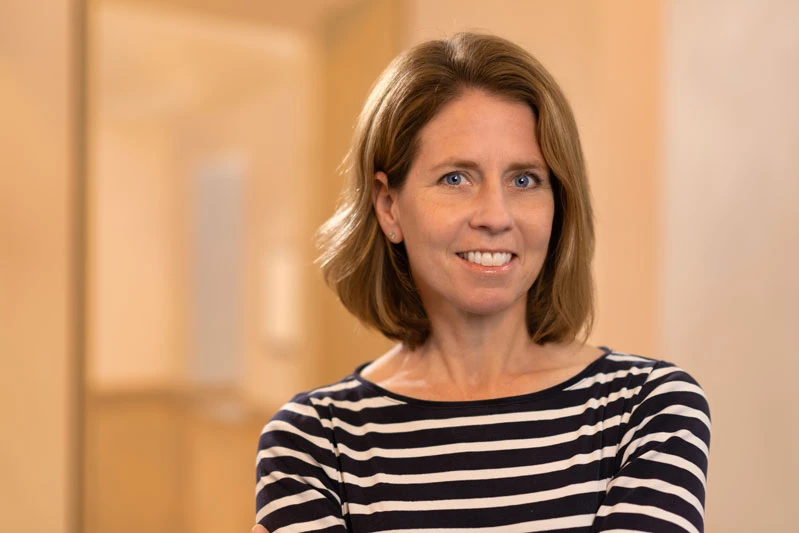 By Sarah Hamilton
Sarah McKenzie, an artist based in Colorado, has been chosen as the 2021 Marion Fellow with her project "To See Inside: Understanding the People and Architecture of the US Prison System."
Ms. McKenzie describes her project this way: "Since 2014, my work as a painter has focused on the architecture of the art world, particularly gallery and museum interiors. I am interested in the ways that the architecture of exhibition space – like all architecture – shapes the experience of those who move through it, communicating social codes and standards for behavior.
"An important theme that has emerged in this work is the issue of access. In all of my paintings, I am keenly aware of who has insider access to these spaces (and to the social and economic status that such access confers) and who has been left out or marginalized," McKenzie explained.
"In early 2020, I started thinking about other types of institutional spaces and the social and cultural codes that their architecture might communicate. I soon became interested in exploring and painting prison interiors, in part because prisons and museums occupy opposite ends of our societal spectrum."
As a Marion Fellow, McKenzie will be supported on a year-long artistic journey through several different institutions that include Chautauqua Institution, Ucross, Alberta University of the Arts, and finally, SUNY Fredonia, where she will present in Fall 2022.
McKenzie holds a B.A. in Film Studies from Yale University and a M.F.A. from the University of Michigan. Her paintings document the built landscape, exploring changes in architecture (what is built) for evidence of social, economic and cultural shifts (why society builds).
The artist's past series have focused on construction sites, abandoned buildings, hotel rooms and the white-walled interiors of museums and galleries. Since early 2020, she has been researching her new project exploring the architecture of prisons.
McKenzie has exhibited her paintings nationally, including shows with the Walker Art Center in Minneapolis, Carnegie Museum of Art in Pittsburgh, Yale School of Architecture, New Mexico Museum of Art in Santa Fe, Museum of Contemporary Art Denver, Aspen Art Museum and the Indianapolis Museum of Contemporary Art, among other venues.
In 2012, McKenzie received a Joan Mitchell Painters and Sculptors Grant, and in 2019, she was awarded the 10th Alexander Rutsch Award for Painting.
When she is not in the studio, McKenzie helps to run Tilt West, a Denver-based arts and culture nonprofit, and teaches visual art through the University of Denver Prison Arts Initiative (DU PAI). Her work is currently represented in Denver by David B. Smith Gallery.
The Marion International Fellowship for the Visual and Performing Arts was created through the Fredonia College Foundation by philanthropists and avid supporters of the arts and education, SUNY Fredonia alumna Cathy and Jesse Marion. More information about the fellowship is available online.