Art exhibition features work of more than 100 SUNY Fredonia students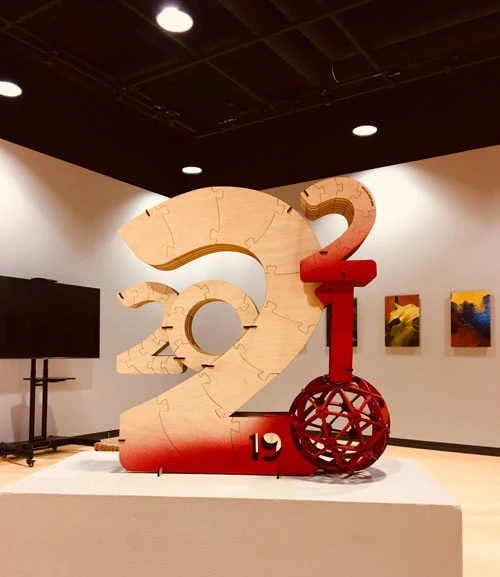 The creativity of more than 100 students will be on display when the Cathy and Jesse Marion Art Gallery hosts the Fredonia Showcase exhibition from Jan. 18 to Feb. 13.
The exhibition features artwork in a variety of mediums: animations, ceramic vessels and sculptures, drawings, experimental videos, graphic design posters, mixed media sculptures, monotypes and monoprints, paintings, photographs and wood sculptures.
A reception will be held on Friday, Jan. 28, from 6 to 9 p.m. The exhibition and reception are free and open to the public.
First-year, sophomores, juniors and seniors are represented in Fredonia Showcase, with artwork from introductory to advanced art courses.
Department of Visual Arts and New Media faculty — Laura Borneman, Linda Cordell, Jason Dilworth, Patrick Foran, Tim Frerichs, Phil Hastings, Stephen Komp, Liz Lee, Hide Sadohara, Alberto Rey, Peter Tucker, Margaret Urban, Liz Van Verth — selected the artwork for the Fredonia Showcase.
The department provides a balanced, comprehensive undergraduate program in the practice, theory, and history of the visual arts and new media. It offers both majors and elective students an opportunity to experience the arts as an important and enriching facet of a liberal arts education.
The curriculum includes a dynamic mix of studio instruction and practice, lectures, and seminars to prepare students for a career or advanced study in the visual arts, or simply provide a greater understanding of art and technology's cultural impact.
The Department of Visual Arts and New Media is an accredited institutional member of the National Association of Schools of Art and Design and is chaired by art historian and Fredonia alumna Dr. Michele Bernatz.
The Cathy and Jesse Marion Art Gallery is located on the main level of Rockefeller Arts Center on the Symphony Circle side of the building. Contact Marion Art Gallery Director Barbara Räcker via email or call 716-673-4897 for more information or to schedule a free group tour of the exhibition.
Gallery hours are: Tuesday through Thursday from noon to 4 p.m., Friday and Saturday from noon to 6 p.m., and Sunday from noon to 4 p.m.
Funding for the exhibition is provided by the Fredonia College Foundation's Cathy and Jesse Marion Endowment Fund and the Friends of Rockefeller Arts Center.
Among the participating artists are: Madeleine Abate, Carl Aldinger, Mad Armstrong, Wyatt Ball, Hunter Bardin, Justin Batley, Sara Bialkowski, Ryan Blake, Malachi Bruno, Becca Bush, Katherine-Marie Byrne, Mikayla Canham, Lexi Carney, Ivan Chaves Lopez, Malana Chen, Mercedez Claar, Caitlin Clonan, Cormac Clune, Olivia Connor, Tess Covello, Kaitlyn Davis, Alyssa DeNeve, Guinevere Devlin, Henry Domst, Joe Dorato, Christopher Dorner, Oliva Dursi, Jason Eberl, Tina Ebert, Aurora Endres, Michael Escobar, Allison Evans, Adrian Fazekas, Katy Fermin, Clayton Firster, Tricia Gallagher, Chylyn Gelineault, Nia Gill, Angeline Ginsberg, Rex Grant, Veronica Gray, June Hamilton, Ellie Harris, DJ Henderson, Matthew Henze, Zach Hoag, Jules Hoepting, James Hoolan, Elizabeth Thida Htway, Rae Hubal, Andrew Johnson, Victoria Kaller, Olivia Karasiewicz, Madeline Keenan, Susan Kehl, Lyn Kempa, Casey Kocher, Emma Kocialski, Isabella Krawczyk, Francessca Lang, Kaitlin Law, John Leahy, Shannon Lynch, Charlotte Mahaffy, Ash Maloney, Sean Marchant, Neoma Marren, Alisa Mazon, Lindsay McAvoy, Owen McGuire, Max Mezzio, Ashley Miles, Cole Miller, Una Miller, Hannah Mohr, Jennifer Morello, Gabriella Morris, Emily Neiswonger, Melissa Neuburger, Kelly Nguyen, Makayla Neilson, Lochlainn O'Connell, Carmelo Ortiz, Rikuho Oshima, Drew Paluch, Amber Pauly, Sadie Peers, Garrett Peterson, Angelo Petrilli, Mason Pugh, Alex Purdy, Deja Raines, Derek Raymond, Austin Reisdorf, Adriel Rivera, Sergey Saakyan, Emily Sando, Giuseppina Santaniello, Julian Santos, Justin Saylee, Julianna Schmidt, Lauren Sherwood, Danielle Singer, Jessie Stahlman, Emily Stoker, Harrison Strauss, Bijen Tandukar, Wilson Thorpe, Ryan Trudell, Sunnie Lee Tucker, Destiny Vail, Wislianie Valdez, Karalyn Walter, Benjamin Weiss, Mackenzie White, Julia Whitney, Rei Williams, Francesca Woolson, Alexis Wright, Dice Yandow, Haiyao Yuan, and Terra Zook.