Chemistry students, professor to conduct summer research at national laboratory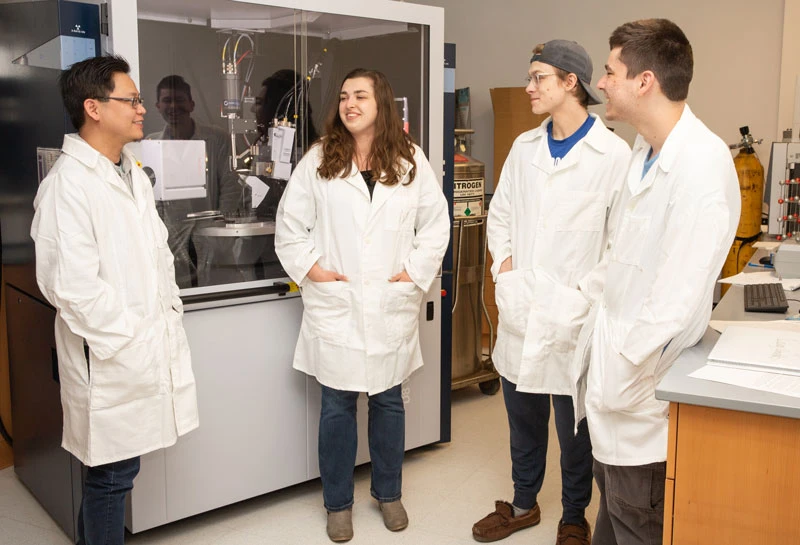 Three SUNY Fredonia science students will join a research group headed by Department of Chemistry and Biochemistry Assistant Professor Allan Jay Cardenas that will conduct research this summer into developing catalysts to accelerate hydrogenation reactions – potentially leading to conversion of waste carbon products into fuel – at Pacific Northwest National Laboratory (PNNL).
Brandon Landis, of Penfield, and Sadie Olrogg, of Springville, both junior Chemistry majors, and Dr. Cardenas are a part of the Visiting Faculty Program (VFP) funded by the U.S. Department of Energy Office of Science, while the third student, Zachary Pawlak, of Holland, a junior enrolled in the 3-2 Cooperative Engineering program in Chemistry, is affiliated with the Science Undergraduate Laboratory Internships (SULI) program.
The PNNL, located in Washington state, is a leading center for scientific discovery in chemistry, data analytics and earth science.
VFP and SULI, both highly competitive programs funded by the Department of Energy, provide opportunities for faculty and students to work in cutting edge research with world renowned scientists, according to Cardenas.
"In this particular study, we will develop heterogeneous catalyst that will facilitate hydrogenation of carbon dioxide and waste organic products," Cardenas explained. Hydrogenation is a chemical reaction that reduces compound by adding hydrogen, but it's a very slow process, so a catalyst is needed to speed up the chemical reaction.
"Conversion of carbon dioxide to methanol through hydrogenation not only reduces carbon dioxide in the environment but also will provide a 'greener' path in producing fuel such as methanol," Cardenas explained.
Vast amounts of organic agricultural waste not being utilized can become a source of fuel, Cardenas suggested. "We aim to design catalyst that will hydrogenate highly oxidized molecules to convert it into saturated hydrocarbons such as octane, which can be used as fuel."
For Mr. Landis, who wants to pursue graduate study in chemistry, the research experience will benefit him significantly when applying to high profile schools while also providing a preview of what graduate school research is all about, Cardenas said. Landis and Cardenas also performed research at the PNNL last summer.
Working on analytical instruments during the internship will help Ms. Olrogg, who wants to become a forensic scientist, prepare to work in the profession, Cardenas noted.
As part of the SULI program, Pawlak will work with chemists and chemical engineers at PNNL, Cardenas said, giving him insight and experience into chemical engineering research.
The PNNL research opportunity would have not been possible without the help, encouragement and support of Department of Chemistry Chair Matthew Fountain, Cardenas said.
The research experience will last 10 weeks, from the end of May to early August. Students will receive a $650 a week stipend. A travel and housing allowance will also be provided to the participants.