Development of FREDwell Lounge recognized for excellence by State University of New York
The development of the FREDwell student lounge is being recognized with an award by the Office of Student Affairs of the State University of New York.
The project, in the Student Health, Wellness, Counseling and related category, has been singled out for an Outstanding Student Affairs Program Award.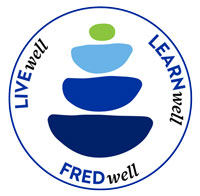 The FREDwell Lounge is a wellness-focused space available at Williams Center Room S221 for students to attend peer led groups about mental health, stress and coping. Training and resources are also available. The FREDwell Lounge is open during the Williams Center operating hours.
Key players in the development of the lounge were Counselor in Residence Miranda Nellis; Prevention, Advocacy and Wellness Support Coordinator Julie Bezek; Campus Life staff members Assistant Director Rachel Martin and Director Mark Suida; and Student Association President Israel Ortiz.
The award will be presented during a virtual ceremony on Friday, Oct. 29.
In the letter of notification to the campus, Dr. Gemma Rinefierd, who is director of Student Affairs for University Life for the State University of New York, and Council of Chief Student Affairs Officers Vice President A. Blaisdell, noted that the program "has clearly made a very positive impact on students and their development, and has improved the quality of the student experience on your campus."
The awards ceremony begins at 3 p.m. on Friday, and can be accessed using the online Zoom link