Farny to give 2021 Kasling lecture; Reese, Weiser to receive Hagan award
Three members of the School of Music faculty – Professor Natasha Farny, who will give the 2021 Robert W. Kasling Memorial Lecture, and Associate Professor of Music Education Jill Reese and Assistant Professor and Coordinator of Jazz Nick Weiser, recipients of the 2021 William T. and Charlotte N. Hagan Young Scholar/Artist Award, will be honored on Tuesday, Oct. 5, in Rosch Recital Hall.
Both the Kasling lecture by Dr. Farny and Hagan award ceremony will be tentatively held in-person in Rosch Recital Hall at 2 p.m. and are free and open to the public. A brief reception will follow in the lobby.
President Stephen H. Kolison Jr. and Interim Director of the School of Music Daniel Ihasz will present the Hagan awards and introduce the Kasling Lecturer.
In her lecture, "Stepping off the Pedestal: The Metamorphosis from Female Muse to Woman Composer," Farny will explore music by historical women. She will share research resources and will play live and recorded excerpts of great, mostly unknown music she has come to cherish.
Farny is the cello professor in the School of Music and teaches studio cello and chamber music. An accomplished soloist, Farny has performed concertos with orchestras that include the Boston Symphony Orchestra and the Buffalo Philharmonic, as well as several regional orchestras. She has taken solo and chamber music tours across Germany, the Czech Republic and Brazil, and has played recitals at nationally known venues in New York City and Chicago. Farny's debut CD, "French Cello Music," was released in 2020 on the Centaur label.
Farny won the Hagan Young Scholar/Artist Award in 2010 and co-founded Ekstasis Duo, which performs music for cello and piano, with School of Music colleague Dr. Eliran Avni, in 2018. Her second CD, "Women's Voices," with Ekstasis Duo partner Dr. Avni, will be released in 2021.
A vibrant teacher, Farny has been invited to give master classes at institutions that include Weimar's Hochschule für Musik Franz Liszt in Germany and the Eastman School of Music. In the summer, she performs and teaches at the Brancaleoni International Music Festival in Italy and at the Sewanee Summer Music Festival in Tennessee.
She has a D.M.A. from The Juilliard School, a M.M. and Performers Certificate from the Eastman School, a Performance Diploma from the Curtis Institute of Music and a B.A. in Humanities from Yale University.
Now in its 43rd year, the Kasling Memorial Lecture is named after Professor of Geography Emeriti Robert W. Kasling. Lectures focus on explaining the methods, purposes and results of an area of scholarship.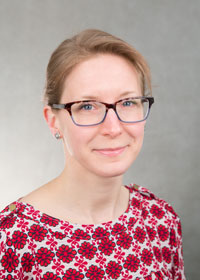 Dr. Reese, an internationally recognized scholar in music education, is the author of two books, four book chapters and 16 research articles in peer-reviewed journals. She teaches undergraduate and graduate courses that include general music methods, early childhood music, history and philosophy of music education and research methods and has established partnerships with childcare and preschool programs that benefit students at Fredonia and children in the community.
These efforts to forge university-community partnerships with local preschool and child care centers led to Reese receiving the College Council Award for Community Engagement.
Creativity and improvisation, early childhood music development, professional learning communities and the use of technology in teaching and learning are among Reese's research interests. Before joining the School of Music in 2011, Reese taught vocal/general music in public schools in Michigan and early childhood music in Michigan and Pennsylvania. Reese was the keynote speaker at the Michigan Music Educators General Music Conference in 2019.
Reese has a doctoral degree from Temple University, a master's degree from the University of Michigan and an undergraduate degree from Michigan State University, all in Music Education. She was recently awarded a 2021 Modern Band Higher Education Fellowship by the nonprofit Little Kids Rock, and as a fellow, received funding to travel to Colorado State University in July to receive modern band professional development. In addition, Reese will be provided with curricular materials and instruments for Fredonia's Music Education program, including electric basses, guitars, drum set, keyboards and tech equipment.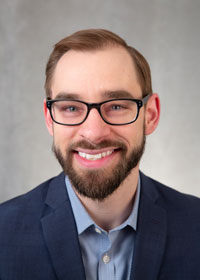 Dr. Weiser is an award-winning performer, recording artist and published scholar who has performed at prestigious venues in Europe as well as in the Americas. A passionate and dedicated educator, Weiser directs the Jazz Studies curriculum that he developed when he joined Fredonia in 2017 and conducts the Fredonia Jazz Orchestra and award-winning New Jazz Ensemble. He previously taught at Ithaca College and Cornell University and maintains a private teaching studio. His teaching interests encompass jazz ensembles, jazz improvisation and jazz standard repertoire, while research is focused on jazz pedagogy and the music of pianist Clare Fischer.
Outside of campus, Weiser is artistic director of the Fredonia Jazz Society, which he co-founded, performing regularly and facilitating concerts by the organization.
Weiser has a D.M.A. and M.M. at the Eastman School of Music and an undergraduate from the University of Kansas.
There have been a number of times the Hagan award has been shared by two faculty. When this happens, one recipient is a scholar, the other an artist. It is named in honor of SUNY Distinguished Professor Emeriti William T. Hagan and his wife and recognizes outstanding achievement in research or creativity.