Rockefeller Arts Center
Designed by the architectural firm I.M. Pei and Partners and built in 1969, the Michael C. Rockefeller Arts Center is a major cultural center of visual and performing arts for western New York and northwestern Pennsylvania.
Mainstage Series offers modern Broadway musical 'Bloody Bloody Andrew Jackson'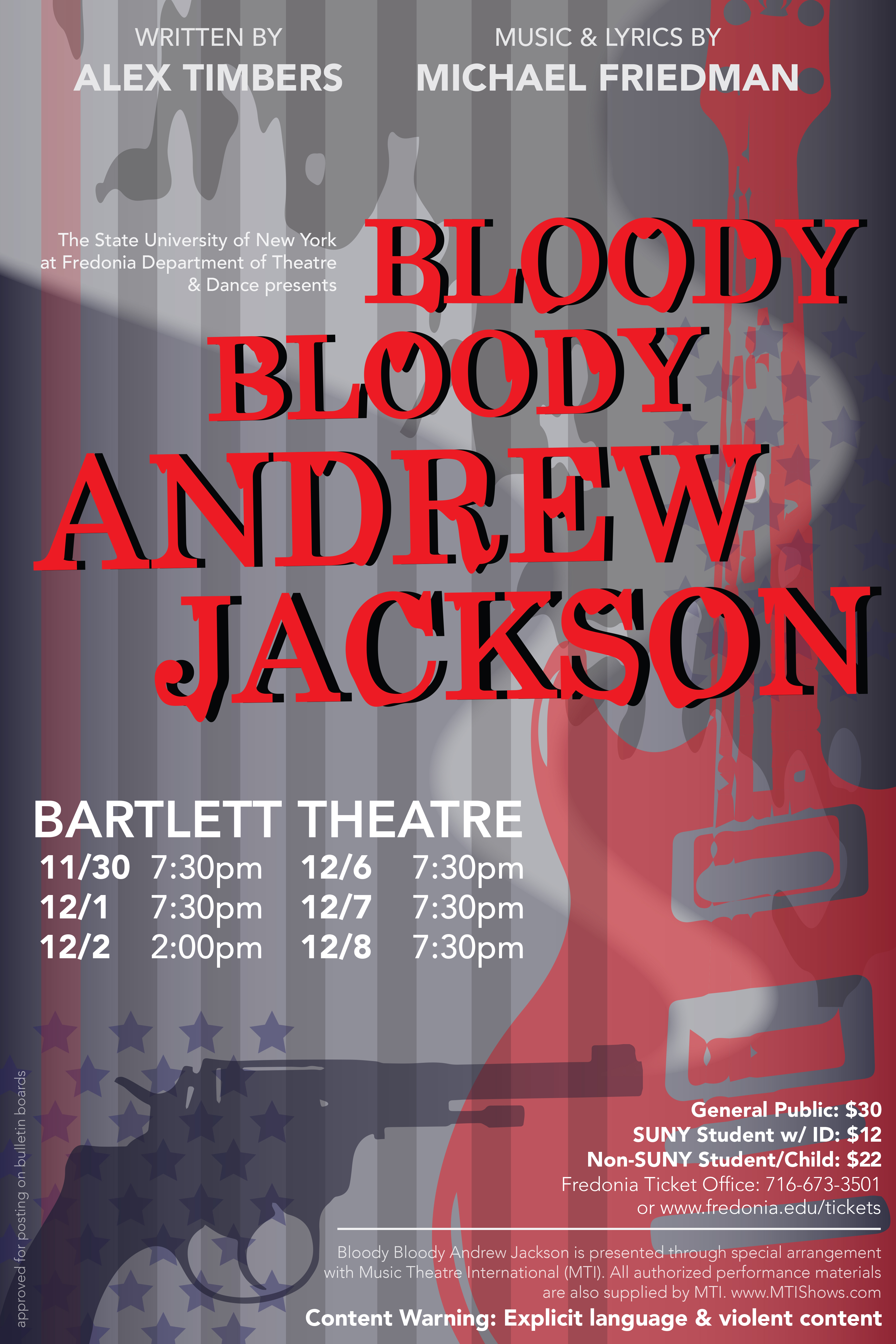 Take a flamboyant political figure from America's frontier days, mix in issues and questions that are as relevant today as they were 200-plus years ago and set it to an emo/punk rock score. What you have is the recipe for an engaging Broadway musical that serves as the next offering in the Walter Gloor Mainstage Series at the State University of New York at Fredonia. The Fredonia Department of Theatre and Dance presents "Bloody Bloody Andrew Jackson" for six performances from Nov. 30 to Dec. 8 in Rockefeller Arts Center's Bartlett Theatre. Come along for the journey with the seventh U.S. president, from his early days on the wild frontier to his controversial reign in the White House.
Nov. 30 and Dec. 1, 6, 7 and 8 at 7:30 p.m.; Dec. 2 at 2 p.m.
Bartlette Theatre
GET TICKETS ONLINE
Tickets also available by phone at 673-3501 and at the Campus Ticket Office in the Williams Center
---
Mix & Match Season ticket packages for the 2018-19 Lake Shore Savings Season are now on sale through the Campus Ticket Office.
Mix & Match Season Tickets allow you to create your own season ticket package from the 17 major ticketed shows during the 2018-19 season. You have the option of the "3 and Up Plan," which lets you save up to 15 percent of the regular ticket price (for any three, four or five events) or the "6 and Up Plan," which allows you to save up to 25 percent on tickets to any six or more events.
For your convenience, the 2018-19 season offerings are grouped by like-genre events into the sub-series below. But you are free to create a combination of ANY of the events that you wish! All you need to do is select at least three of the featured selections to create your own season ticket package. The possible combinations are nearly endless – mix and match them as you wish.
A link to the order form appears at the bottom of this page. You may place your order by printing and mailing in the order form, and you can also order by phone, at 673-3501, Monday-Friday, 9 a.m. to 3 p.m. We look forward to seeing you during the coming season!
DFT Communications Pops Series
Make your selections now and place your order using the form at the blue box link below.
Tickets to individual events do not go on sale until Aug. 27, 2018.
We are pleased to welcome Lake Shore Savings back as our season sponsor. Learn more about Lake Shore Savings at www.lakeshoresavings.com.
Rockefeller Arts Center Events