Rockefeller Arts Center
Designed by the architectural firm I.M. Pei and Partners and built in 1969, the Michael C. Rockefeller Arts Center is a major cultural center of visual and performing arts for western New York and northwestern Pennsylvania.
Walter Gloor Mainstage Series continues with timeless classic Antigone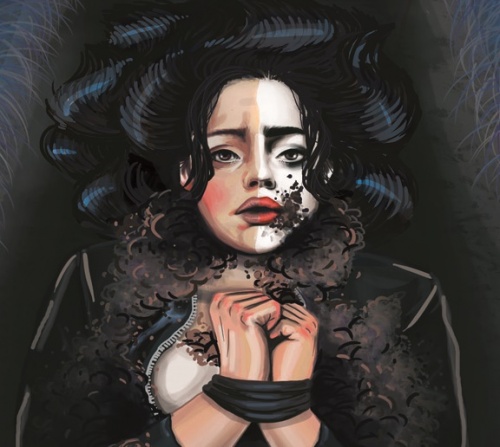 The next offering in the Walter Gloor Mainstage Series at may very well be the definition of a timeless classic. The Department of Theatre and Dance will present six performances of "Antigone" from Feb. 22 to March 2 in the Alice E. Bartlett Theatre.
Written sometime around 441 B.C. by Sophocles, "Antigone" has themes that are still relatable to modern audiences, according to director Daniel Lendzian, a Theatre and Dance faculty member.
"The intrigue of Antigone lies within its ability to encapsulate the philosophical nature of the Ancient Greeks and how easily the echoes of those spirited conversations still resonate today," Lendzian said. "There are so few of these Greek masterpieces which remain for us to study and perform in the present; the fact that it's been over two millennia since this work was created and it still carries such a great weight is remarkable."
Lendzian said "Antigone" is an ideal work to take on in an educational environment, given "the polarizing sociopolitical atmosphere that we currently find ourselves in, and the dynamic debate regarding authoritarianism that unfolds within."
The plot centers on the dilemma Antigone faces after her brothers, Eteocles and Polynices, kill each other in a duel over the crown following the death of their father, Oedipus. Rule of the kingdom then falls to Antigone's uncle, Creon. He grants an honorable burial to Eteocles, but decrees Polynices was a traitor and will remain unburied as punishment. Antigone attempts to defy Creon's decree, leading to a clash of wills that has tragic consequences for many.
"This particular adaptation that we're presenting was penned by Jean Anouilh of the French Existentialist movement in the 1940's and takes great care to preserve Sophocles original intent with this piece while being inclusive of more modern sensibilities," Lendzian said.
Tickets are also available through the Campus Ticket Office at the Williams Center, by phone at 673-3501 (1-866-441-4928).
---
May Pops Concert Audition Info
Click link above for audition info for "My Fair Lady in Concert." Auditons will be on Tuesday, February 5, from 4:30 to 8:30 p.m.
---
---
2018-19 Mix & Match ticket packages are still available.
Mix & Match Season ticket packages for the 2018-19 Lake Shore Savings Season are now on sale through the Campus Ticket Office.
Mix & Match Season Tickets allow you to create your own season ticket package from the 17 major ticketed shows during the 2018-19 season. You have the option of the "3 and Up Plan," which lets you save up to 15 percent of the regular ticket price (for any three, four or five events) or the "6 and Up Plan," which allows you to save up to 25 percent on tickets to any six or more events.
For your convenience, the 2018-19 season offerings are grouped by like-genre events into the sub-series below. But you are free to create a combination of ANY of the events that you wish! All you need to do is select at least three of the featured selections to create your own season ticket package. The possible combinations are nearly endless – mix and match them as you wish.
A link to the order form appears at the bottom of this page. You may place your order by printing and mailing in the order form, and you can also order by phone, at 673-3501, Monday-Friday, 9 a.m. to 3 p.m. We look forward to seeing you during the coming season!
DFT Communications Pops Series
Make your selections now and place your order using the form at the blue box link below.
Tickets to individual events do not go on sale until Aug. 27, 2018.
We are pleased to welcome Lake Shore Savings back as our season sponsor. Learn more about Lake Shore Savings at www.lakeshoresavings.com.
Rockefeller Arts Center Events