About Rockefeller Arts Center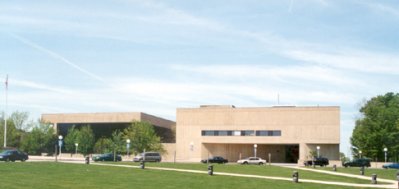 Designed by the architectural firm I.M. Pei and Partners and built in 1969, the Michael C. Rockefeller Arts Center is a major cultural center for western New York and northwestern Pennsylvania.

Housing a 1,200-seat concert hall, three theaters and two art galleries, Rockefeller Arts Center serves as a showcase for the talented students and faculty in Fredonia's strong arts programs and as a venue for national and international touring artists.
More than 150 events are presented each year by the center with clients including academic departments, student organizations and community groups. Annual attendance exceeds 43,000 people.

The 120,000 square foot facility houses faculty offices for the Department of Visual Arts and New Media and the Department of Theatre Arts and Dance, as well as classrooms, rehearsal halls and spacious, well-equipped art studios, dressing rooms, scenery and costume shops.
A major addition was completed in 2016. The project added an additional 40,000 square feet to the building.
---
Rockefeller Arts Center is an administrative unit within the College of Visual and Performing Arts
Profile of Programs & Services
Policies & Procedures
(Updated Fall 2016)
Who Was Michael C. Rockefeller?
Related Academic Programs:
Arts Administration
Visual Arts and New Media
School of Music
Theatre and Dance