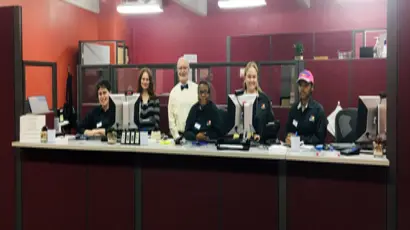 Fredonia Campus Ticket Office
Providing event ticketing and transportation services for the Fredonia Campus Community
New Hours: Fall Semester Ticket Office Hours are Mon. Wed. and Fri. 9 a.m. to 3 p.m.
We still sell tickets for Coach USA buses to Buffalo and Jamestown and points in between, but if you can't come to the ticket office when we are open, you can purchase them from the bus driver. Exact change is required. Information on the schedule and prices is available at the Coach USA Web Site. The one-way price to Buffalo is $6.20. The Coach USA phone number is 1-800-352-0979.
Tickets to most fall semester performing arts events are now available at our office in the Williams Center. Phone orders are also accepted at 716-673-3501 during the above hours. Tickets can also be purchased 24/7 through our online store (click on the button below). A convenience fee of $6.00 per order applies to internet and phone sales. There is no fee for in-person sales.
---
Hours of Operation
OPEN: Monday, Wednesday and Friday 9:00am-3:00pm
CLOSED: Tuesday, Thursday, Saturday, Sunday and Holidays
Order by phone: 716-673-3501 during the hours above.
Accepted Forms of Payment
The Fredonia Campus Ticket Office accepts:
Cash
MasterCard
Visa
American Express
Discover
FredCard (accepted at the Williams Center ticket office location only)
Personal checks are not accepted (but can be used for season subscriptions).
For all online ticket purchases, credit card statements will read, "SUNY Fredonia TouchNet"
Directions
Enter the college from the Central Avenue entrance (280 Central Ave.).
Make a right at stop sign on to Ring Road.
Follow Ring Road all the way around to next stop sign.
Continue straight at the stop sign and pass the tennis courts on left.
The Williams Center is the large round building on your right.
Two 30 minute parking spaces are available adjacent to the bus shelter.
Enter the Williams Center from the door facing the tree grove. Once inside, the ticket office is immediately on your right (room G-140, next to the Credit Union).
For help or additional directions, please contact the office directly. You may also find directions to our campus by clicking on the following link:
Directions to the Fredonia Campus
About our online Web Store:
Click here to learn more about our new web store that will allow you to select your seating location online, print your tickets from home or send them to your smartphone for scanning at the event. Please note: there is a $6.00 per order processing fee charged on all phone and web sales.
During an Event
Will Call ticket counters open one hour prior to the scheduled curtain time in each venue lobby. The evening phone number for King Concert Hall, Marvel Theatre and Bartlett Theatre is 716-673-3501.
Phone Orders
The ticket office phone number is 716-673-3501. You may also call us toll-free at (866) 441-4928. Patrons may order event tickets over the phone using a MasterCard, Visa, American Express or Discover. There is a $6.00 processing fee per order when purchasing by phone. Phone orders received at least seven days prior to the scheduled event will be mailed to the patron upon request. Phone orders received less than 7 days prior to the event will be held at the "Will Call" table at the venue ticket counter for pick-up at the door. We do not accept unpaid reservations.
Ticket Exchange Policy
Should your plans change, ticket exchanges are available for many of our events**. Mix & Match ticket package holders enjoy this service FREE of charge. For non-subscribers, there is an exchange fee of $2.00 per ticket. All exchanges must be made at the Fredonia Campus Ticket Office in the Williams Center at least 24 hours in advance of performance time. Once a performance has passed or becomes sold out, tickets are no longer eligible for exchange.
**Some limitations may apply. Please contact the Fredonia Campus Ticket Office for details. 716-673-3501
SEATING DIAGRAMS: