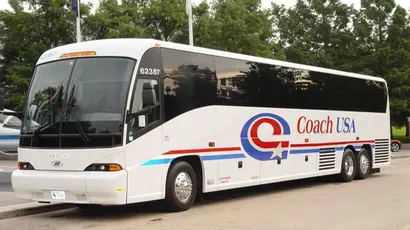 Bus Tickets, Local/Regional Coach USA to Buffalo & Jamestown
PLEASE NOTE: THE COACH USA BUS IS PUBLIC TRANSPORTATION AND OPERATES EVERY DAY, YEAR ROUND (the holiday schedule dates are listed beneath the grid below). CoachUSA is an independent transportation carrier, (not affiliated with nor operated by the Fredonia campus.)
Due to staffing shortages Coach USA may not be able to honor all of the times below for pickup. For information about cancellations and delays, passengers should call 1(800) 352-0979.
For travel to Buffalo and Jamestown and points in between, the Fredonia Campus Ticket Office is an authorized agent for COACH USA tickets (in person only, no phone sales allowed). The schedule is given below.  Departure and arrivals take place at the campus bus shelter (adjacent to the Williams Center). The schedule to and from Buffalo and Jamestown is given below. The cost for travel between Buffalo and Fredonia is $6.20 one way and $11.80 round trip. The cost for travel between Fredonia and Jamestown is $4.65 one way and $8.85 round trip.
The Coash USA destination in Buffalo is the Buffalo Metropolitan (Metro) Transportation Center and Bus Station at 181 Ellicott St, Buffalo, NY 14203. Connections are available to a variety of carriers including Greyhound and New York Trailways. The Buffalo Meto terminal is also just a short walk to the Exchange Street Station of Amtrak (at 75 Exchange Street.)
COACH USA - JAMESTOWN to FREDONIA to BUFFALO (Northbound)
Bus Stop 
Monday thru Saturday 
Sundays & Holidays*
Jamestown
6:05 am
8:30 am
10:55 am
1:45 pm
5:45 pm
1:00 pm
6:15 pm
Fredonia Campus
6:48 am
9:13 am
11:38 am
2:29 pm
6:29 pm
1:44 pm
6:59 pm
Buffalo Metro 
8:10 am
10:35 am
1:15 pm
4:00 pm
8:05 pm
3:15 pm 
8:35 pm
COACH USA - BUFFALO to FREDONIA to JAMESTOWN (Southbound)
Bus Stop 
Monday thru Saturday 
Sundays & Holidays*
Buffalo Metro
8:20 am
11:10 am
2:15 pm
6:00 pm
9:30 pm
3:30 pm
9:00 pm
Fredonia Campus
9:52 am
12:44 pm
3:47 pm
7:29 pm
10:53 pm
5:04 pm
10:29 pm
Jamestown 
|  10:40 am
1:30 pm
4:35 pm
8:15 pm
11:40 pm
5:50 pm 
11:15 pm
*The Coach USA Holiday schedule includes: New Year's Day, Easter, Memorial Day, 4th of July, Labor Day, Thanksgiving Day and Christmas Day.
Information on additional stops between Jamestown and Buffalo is available by calling COACH USA at 1-(800)-352-0979 or the Fredonia Campus Ticket Office at 716-673-3501.

All bus tickets must be purchased in person at the Fredonia Campus Ticket Office window. Photo identification is required. The purchasing process may take several minutes. Please plan accordingly.

All patrons must arrive at the bus shelter at least 15 minutes prior to their scheduled departure to ensure meeting the bus. The buses will not stop unless there are patrons waiting at the shelter.
Customers who would like to use the Coach USA bus at a time when the ticket office is closed may still ride, but MUST pay the bus driver with exact change for the one way fare to their destination.
Travel to other parts of New York and the United States
Patrons can make connections to any destination in the continental United States through the Buffalo Bus Terminal.