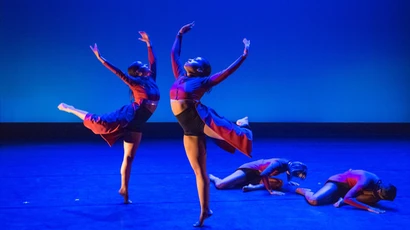 First Floor of the Rockefeller Arts Center Addition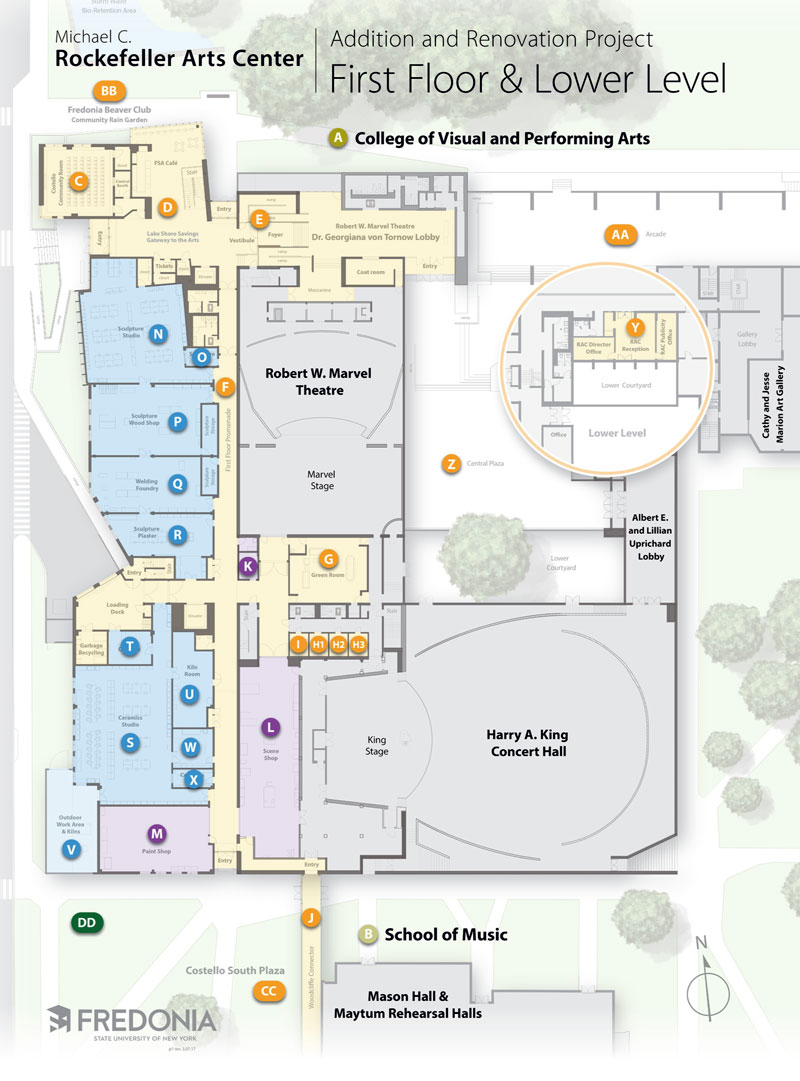 First & Lower Floor Spaces
(A) College of Visual and Performing Arts: $5,000,000
The name of the College of Visual and Performing Arts (CVPA) shall appear on the entrance of the Rockefeller Arts Center building outside of the main entrance, inside the building lobby, and on all publications, signs and announcements related to the CVPA.
(B) School of Music: $5,000,000
The name of the School of Music (SOM) shall appear on the entrance of the Mason Hall building outside of the main entrance, inside the building lobby, and on all publications, signs and announcements related to the SOM.
(C) Costello Community Room
Combination lecture/teaching space and public meeting space available for teaching purposes as well as campus or community events, including pre-concert talks and post-event receptions.
(D) Lake Shore Savings Gateway to the Arts
Public space accommodating day and evening activities for students and general public users of the building for academic or performance events.
(E) In Memory of Doris Pattie - Marvel Theatre von Tornow Lobby Vestibule/Foyer
New public access entrance to the von Tornow lobby of Marvel Theatre.
(F) RAC First Floor Promenade: $50,000
Public access hallway accessing shops and studios along the spine of the addition, adjacent to the existing building.
(G) Kay Hardesty Logan Green Room
Serving King Concert Hall and Marvel Theatre, the Green Room is the place where performers gather before the performance, wait their turns to go on stage and relax when not on stage. Virtually every theatre in the English-speaking world has a room with this name and for this purpose.
(H) Dressing Rooms (3): $10,000
These three small dressing rooms, (also known as "quick change rooms") serve as the "star" dressing rooms for resident and visiting musical groups; they are typically used for the conductor and featured soloists. One of the rooms is equipped with a phone and computer to serve as an "office away from home" for visiting touring companies.
(I) Gordon and Carol Baird Technical Director's Office
This office serves as the nerve center for all facility operations. The Rockefeller Arts Center's technical director and operations manager schedules all performances and and rehearsals, and monitors all backstage operations including the technical needs for visiting artists and ensembles.
(J) Woodcliffe Connector
Enclosed connecting structure between Mason Hall and the RAC addition. Facilitates public access of foot traffic as well as movement of instruments and other equipment from building to building. In recognition of endowment gift from James and Irene Strychalski.
(K) The Tom Castellana Scene Shop Supervisor's Office
Staff office space adjacent to shop and Marvel Theatre stage.
(L) T&D Scene Shop: $50,000
Wood, fabric, and metal layout and assembly space for the fabrication of theatrical scenic elements related to the academic mission of the Department of Theatre and Dance productions.
(M) T&D Scene Paint Shop: $25,000
An open, high-ceilinged space specifically designed to allow the safe teaching of scene painting techniques to students as well as the painting and decorative finishing of scenic and property items fabricated elsewhere. Space will allow complete trial set-ups of scenery prior to assembly in a performance venue. Offers the ability for students and faculty to safely execute a variety of painting and finishing techniques.
(N) VANM Sculpture Studio: $50,000
Lecture/workroom studio for the study of methods, materials, techniques and the fundamental principles of sculpture. Incorporates spaces for both traditional and experimental approaches to three-dimensional expression.
(O) VANM Sculpture Office: $10,000
Sculpture faculty member's office adjacent to the Sculpture Studio.
(P) VANM Sculpture/Woodshop: $50,000
A well-equipped studio appropriate for a variety of fabrication techniques associated with woodworking, armature construction, model building and mixed media fabrication.
(Q) VANM Welding/Foundry Room: $40,000
A studio for both hot and cold fabricating techniques, including various welding and foundry casting processes.
(R) VANM Sculpture/Plaster Room: $30,000
Designated space for methods and materials associated with mold-making, investment casting and hand building of dimensional objects.
(S) VANM Ceramics Studio: $50,000
This studio affords opportunity for up to 32 students to safely work on hand- or wheel-formed ceramic projects using a variety of ceramic materials. In addition, a variety of teaching technology devices will support traditional classroom teaching methods.
(T) VANM Clay Mix Room: $15,000
Minimal storage of dry clay product as well as mixing and pugging of clay for studio work.
(U) VANM Kiln Room: $40,000
Allows the firing by means of gas or electric kilns of student created ceramic projects.
(V) VANM Outdoor Kiln: $30,000
An exterior space that will allow use of ceramic firing techniques other than electric or gas as found indoors. Traditional or experimental processes can be executed.
(W) VANM Glaze Mix Room: $10,000
A space for the safe storage and mixing of ceramic glazing materials as well as various application on finished projects.
(X) VANM Ceramics Office: $10,000
Ceramic faculty member's office space.
(Y) Gail and Ted DeDee Administrative Offices
Conversion of the former Student Commons to serve most RAC administrative operations including offices for the director, secretary, and public relations assistant. In recognition of Gail (Andrews) and Ted DeDee, Class of 1971.
(Z) RAC Central Plaza: $60,000
This large expanse of poured-in-place concrete serves as the welcoming entryway into the Harry A. King Concert Hall and connects the concert hall to the Robert W. Marvel Theatre. The plaza has been the site for major public gatherings.
(AA) RAC Arcade: $40,000
This covered passageway, with a series of columns on the north side, brings audience members from Symphony Circle at the front of Rockefeller Arts Center to the stairs and ramps that lead up to King Concert Hall, Marvel Theatre and the Marion Art Gallery.
(BB) Fredonia Beaver Club Community Rain Garden
Three-season exterior landscaped space adjacent to the north entrance to the RAC addition.
(CC) Costello South Plaza
(DD) West Wing: $2,000,000
Michael C. Rockefeller Arts Center new addition