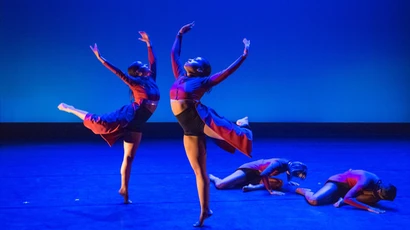 Features of the Rockefeller Arts Center Addition
The two-story, 40,000-square-foot addition extends along and beyond the entire west side of the original I.M. Pei structure. On the ground floor, adjacent to the public entrance and café, is a multi-purpose room that can serve as a classroom and conference room by day and as a place for pre-concert talks and post-performance receptions by night. Also on this level are large art studios for a variety of three-dimensional creations, including ceramics and sculptures made of plaster, wood, metal and mixed media. A dedicated shop for painting theatre drops and set pieces is included at this level, and a climate controlled corridor connecting Rockefeller Arts Center to the School of Music spaces in neighboring Mason Hall. This allows personnel and delicate musical instruments to travel conveniently and safely between the two buildings in all kinds of weather.
The second floor of the addition includes three dance studios. The largest of these, located at the northwest corner directly above the public entrance and café, doubles as a performance space, accommodating up to 120 people with customized retractable seating. Offices for the members of the dance faculty are included, and lavatories and changing rooms with showers for faculty and students in the dance program. The theatre program also gains two much-needed acting studios on this level. The rooms serve as classrooms by day and as rehearsal halls at night, allowing productions to be rehearsed in spaces equal to the size of the theatres in which they take place.
Renovated and re-purposed areas of the current building include new digital design labs and drafting studios for the Department of Theatre and Dance and the Department of Visual Arts and New Media, a reorganization of the northwest entrance to Marvel Theatre which will connect it to the new café, and a conversion of the Student Commons to new administrative offices for Rockefeller Arts Center.
In the new addition, rooms of particular interest include:
---
T&D Scene Paint Shop
VANM Ceramics Studio with Indoor and Outdoor Kilns
VANM Sculpture Studio
VANM Welding and Foundry Room
RAC Multipurpose and Screening Room
RAC Lobby & FSA Cafe
The First Floor Promenade

 
---
T&D Acting Studios (2)
T&D Dance Studios (3, one of which can adapt to public performance)
Dance Faculty Offices and Dressing Rooms
The Second Floor Promenade
Portions of the existing building will be renovated to house the following:
Remodeled Green Room
New RAC Administration Offices
A Remodeled Von Tornow Lobby for Marvel Theatre Access
New T&D Production Faculty Offices
New T&D Computer Lab, Lighting & Sound Lab, Design & Drafting Studio and Print Area
VANM Drawing Studio, Shooting Studio, Computer Labs, Print Making Studio and Faculty Offices
T&D Makeup Classroom
RAC Production Dressing Rooms