Fredonia alumna and Keeper of the Dream Scholar pioneers virtual internship in forensics
"When life gives you lemons, make lemonade."
That proverbial wisdom could easily apply to Fredonia graduate Dr. Lori Ana Valentín, a forensic scientist with the New York State Police Crime Laboratory System (NYSP CLS). She serves in the agency's Albany-based Forensic Investigation Center and runs its internship program that was upended – much like the rest of higher education – due to the COVID-19 pandemic.
The Forensic Investigation Center usually hosts one or two interns every year, but was apprehensive about conducting in-person internships this past summer due to coronavirus health concerns.
Instead, Dr. Valentín developed what's believed to be the first virtual forensic internship ever offered by the NYSP CLS. In it, students learned how evidence in criminal cases is collected, processed and analyzed. The six-week experience provided an orientation into the crime laboratory system, going beyond an introductory course by exposing students to organizational structure, administrative oversight, evidence processing and analysis in a large forensic science laboratory.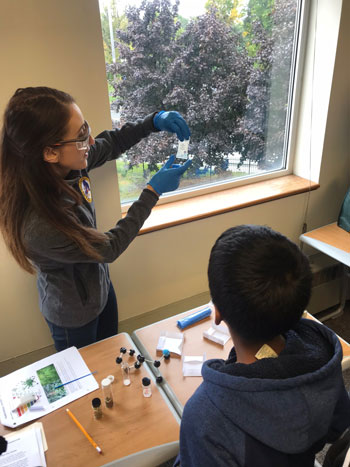 Outside of her work in the lab, Valentín mentors students one-on-one across the country. One of her mentees for an internship at a forensic lab in another state was incredibly disappointed when her internship was postponed until the summer after she graduates, Valentin explained, due to COVID-19.
That inspired Valentín to explore the possibility of a virtual internship at her facility.
Valentín has a Ph.D. in Analytical Chemistry and M.S. in Chemistry, both from Binghamton University, and a B.S. in Biochemistry from Fredonia. She also was a Keeper of the Dream Scholar during her undergraduate years.
And she knows how to make great lemonade.
Valentín crafted a dramatically different internship that was far more comprehensive than previous lab internships that usually involve shadowing and some aspect of hands-on work. The pivot to a virtual format enabled the Forensic Investigation Center to significantly increase the number of students and bring more experts on board.
Nineteen students – all science majors who aspire to become forensic scientists – were drawn from around the world to the internship, though most were from New York state academic institutions.
Valentín handled all aspects of the internship, from creating the syllabus to booking lectures.
"I modified the format to include a series of guest lecturers, each focusing on a different topic.  I wanted to ensure that it offered more than an introductory course, so I made sure that we explored topics that aren't addressed in texts – such as our evidence intake process, chain of custody, expert testimony and accreditation," Valentín explained.
The internship utilized Blackboard, Outlook and Zoom to disseminate, instruct and discuss course content that included PowerPoint lecture material, experimental protocols, videos, readings, mock data and assessment material. Student attendance at weekly live PowerPoint lectures was mandatory.
Participation was an integral part of the internship. Students were required to submit three questions, which could encompass technical/scientific areas, career navigation and satisfaction and academic backgrounds, for each guest lecturer before the lecture.
Valentín believes networking is one of the biggest benefits of an internship, so it was important for the students to "meet" as many professionals as possible. The virtual format broadened that scope, so Valentín was able to bring in forensic experts across the country from county, state, and federal labs. She also created a professional directory that included their contact information, area of expertise and professional affiliations for the students to retain as a resource.
The internship experience was well received, Valentín said.
"The students were happy to have the experience after so many had internships and co-ops were cancelled, and they were excited to learn about so many forensic topics from renowned experts in the field," Valentín said. "We also had a couple of virtual social hours outside of lecture time which we all enjoyed."
"The students were happy to have the experience after so many had internships and co-ops were cancelled, and they were excited to learn about so many forensic topics from renowned experts in the field." Dr. Lori Ana Valentín
Eleven students enrolled in the internship for academic credit, while another eight students – including Fredonia student Prince Aziz Hunt – audited the course.
Valentín became involved with the Forensics Investigation Center's internship program a year ago. In this role, she works directly with the intern, designing a project and coordinating with the school to ensure that the program meets the requirements needed for credit. An intern would be typically assigned to a specific laboratory section, such as DNA, and work on a special project with the section.
"I've always been involved in outreach, as far back as Fredonia, in tutoring, mentorship and leadership development, so it's become a part of my role here," Valentín explained. She enjoys working with students and regularly gives lectures at the State University of New York at Albany. "It was a perfect ft for me to become involved in coordinating the internship program," she said.
Valentín belongs to the American Chemical Society and is a member of the Education Committee of the Eastern New York Section of the ACS, where she develops STEM educational programming for under-resourced students and professional development programs for students and early-career professionals. Valentín is also chair of ACS's Younger Chemists Committee and is on the executive committee for the Women Chemists Committee.
In response to COVID-19 this summer, she founded the Eastern U.S. YCC Partnership which delivers virtual professional development nationally to younger chemists.
At Fredonia, Valentín completed a semester-long internship with INX International Ink Co. and conducted analytical research in all four of her years in the lab of Department of Chemistry Professor Michael Milligan. Much of that work was devoted to the Great Lakes Fish Monitoring Program.