Fredonia representatives tour, explore collaboration with Athenex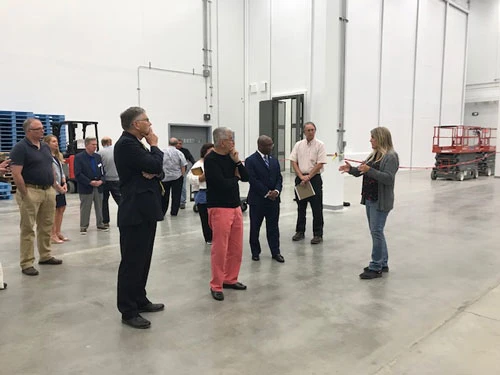 A team of SUNY Fredonia administrators and faculty representing science and business departments recently toured the new Athenex biopharmaceutical manufacturing plant in Dunkirk to learn about potential opportunities it may offer to students and professors.
President Stephen H. Kolison Jr. indicated he wanted to learn more about the company and its operations here, as development of the Athenex facility began before his Fredonia appointment. "I also wanted to explore the potential for collaboration between Fredonia and Athenex, especially when it comes to student internships and faculty and staff collaboration," President Kolison said.
The nearly 500,000 square-foot facility is a world class, state-of-the-art operation that may lead to partnerships that involve internships, jobs and employee training, said Interim Provost and Vice President for Academic Affairs Kevin Kearns.
The tour hosts are committed to partnering with SUNY Fredonia and members of the community on mutually beneficial opportunities as Athenex grows to full capacity, Dr. Kearns said.
Members of the university tour contingent also included Vice President for Finance and Administration Michael Metzger, Department of Biology Chair and Professor Ted Lee, Department of Chemistry and Biochemistry Chair and Professor Matthew Fountain, Associate Professor of Management Susan McNamara and Denise Szalkowski, assistant to the president.
Also attending the tour were Fredonia College Council Chair Frank Pagano and former Fredonia College Foundation board member Rick Johnson.
The tour, hosted by Teresa Bair, senior vice president, Administration and Legal Affairs at Athenex, was initiated by Ms. Szalkowski.
"We learned about opportunities for employment for Fredonia graduates and student internships down the road," Dr. Lee said.
"Athenex leadership was excited to work with our students as interns and potential employees," Dr. McNamara added. "Business students, especially those talented in operations, quality management, supply chain and project management, now have a global company to work and learn with in our backyard."
"Fredonia is committed to providing interns in the Microbiology, Chemistry and other areas that help prepare future graduates for employment with this exciting international pharmaceutical company," Kearns said.
Athenex, a specialty oncology pharmaceutical company based in Buffalo, plans to manufacture high-potency oncology drugs at the Dunkirk plant that is expected to begin operations in the second half of 2021.