Fredonia students, faculty build habitats for at-risk species
Threatened and endangered species in Western New York are getting a much-needed lift, thanks to two faculty members and a handful of students at Fredonia and a fund established by a 1972 graduate to encourage collaboration between the arts and science.
Department of Visual Arts and New Media Associate Professor Peter Tucker and Department of Biology Professor Jon Titus teamed up to undertake a project, Wildlife Woodworking, to construct habitat support for five species: bats, chimney swift birds, native bees, northern flying squirrels and spiny softshell turtles. Dr. Titus identified the species; Mr. Tucker coordinated construction.
"I wanted to build some habitats but didn't know where we could get the 'most bang for the buck' so that's where Dr. Titus and his students helped out," Tucker explained. Regional scientists and naturalists in Western New York were contacted and asked which species would benefit the most from constructed habitats.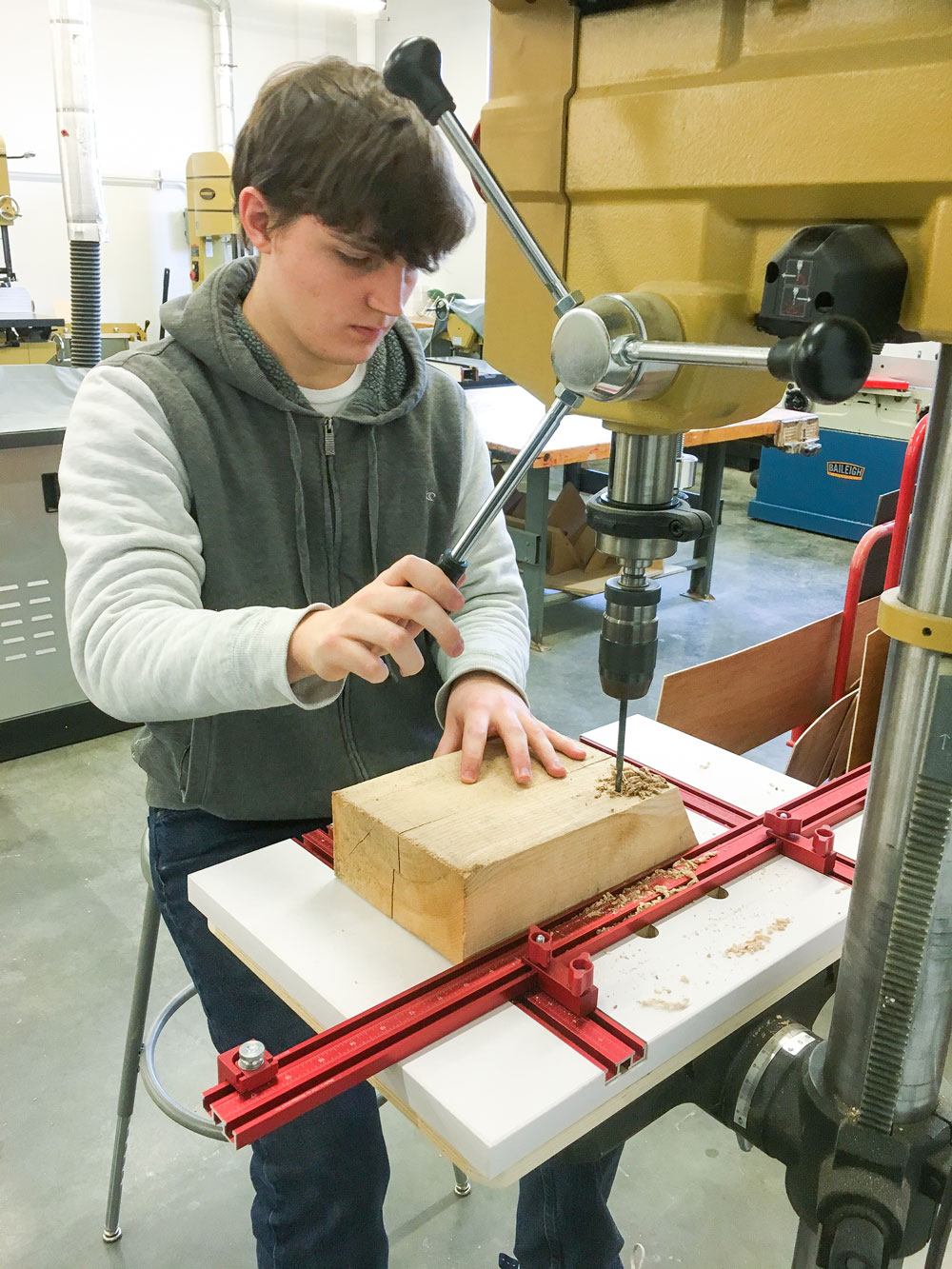 Fifteen bat houses, 50 bee blocks and 10 squirrel nests, built by students in the sculpture wood shop at Rockefeller Arts Center, have been delivered to the Audubon Community Nature Center, Chautauqua Watershed Conservancy, Roger Tory Peterson Institute of Natural History, The Nature Sanctuary Society of Western New York Silo City in Buffalo and community members. Material costs prevented the construction of habitats for the spiny softshell turtle and chimney swift.
"What's cool about this is that it was interdisciplinary, involving students and faculty," Tucker explained. Students working on the project reflected a broad spectrum of disciplines and included: Jessica Schimek, (Chemistry: Adolescence Education), Timothy Highway-Snider (Social Work), Sam Mackintosh-Smith (Visual Arts and New Media), Sudi Wang (Biology) and two recent graduates, Natalie Sacchitella, (Visual Arts and New Media: Graphic Design) and Jamie Perrin (Visual Arts and New Media: Graphic Design).
"We're benefiting the environment, using easily accessible materials where we can, and also have a community member involved," Tucker explained. Ms. Sacchitella is also developing do-it-yourself handouts and a project website, so Wildlife Woodworking will pay dividends beyond the actual habitats built by the students. Bill Bartoo, a retired boat building and furniture design professor at SUNY Buffalo State, contributed his expertise and was an integral part of the project, Tucker said.
The bat houses, Tucker explained, incorporate a more contemporary design that allows bats to move around inside, which he says is important so bats can regulate their internal temperature. The bee blocks are simple blocks of wood, with small drilled holes and modest roofs, but serve a vital purpose.
"There are over 4,000 native species of bees, which are non-stinging, and they are the most important pollinators that we have in North America," Tucker noted.
The project was funded by the Costello Interplay Award Fund, created by Dennis R. Costello, who majored in Economics at Fredonia, and his wife, Kathryn L. Costello, through the Fredonia College Foundation to support grants to faculty and students for projects that support intersections between the visual arts and new media and the natural and mathematical sciences.