Kristen Wielgasz named March RA of the Month for March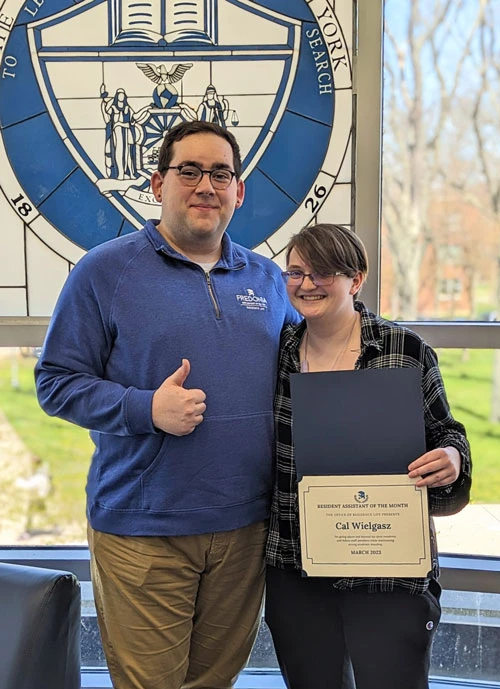 Kristen "Cal" Wielgasz, a fifth semester resident assistant in McGinnies Hall, has been named RA of the Month for March.
A senior majoring in Theatre Arts, from Silver Creek, they just finished playing the role of Gregory in SUNY Fredonia's recent production of "Romeo and Juliet." Wielgasz is also the secretary for the Resident Assistant Advisory Board (RAAB) and a teaching assistant for stage combat instruction.
When asked about their favorite thing(s) about Fredonia, Wielgasz said, "I love all the people that I have met at SUNY Fredonia, the opportunities I have been able to take because of being here, and all of the memories I have made due to being here."
Wielgasz was nominated by Ronny Nissen, residence director of McGinnies Hall. Nissen's praise of Wielgasz's work includes saying, "Cal continues to show engaging attitudes within their house and the overall building. When quizzed on residents, they were able to score a 100 percent, knowing all of their residents personally.
"They also take the time to receive input from their residents about programs, the residents' attitudes and the morale of the building to get residents engaged and out of their dorm rooms. Cal enjoys this job more than anything else. I have known Cal since I was on the RA staff with them and their attitude has been nothing but positive since day one," Nissen said.
"My future goals for this year are to make the most of my last semester at SUNY Fredonia and begin trying to find where I want to be in the world," Wielgasz said. "I would like to take workshops for acting and be able to promote my abilities to more people.
"I would like to be able to stay in touch with my friends I've made through SUNY Fredonia and it would be amazing to get to work with some of these amazing people again. I am just excited for what is to come, whatever it may be," Wielgasz said.