Mockovak directs 'The Impresario' for Syracuse Opera
Department of Theatre and Dance Professor Paul Mockovak served as the stage director/choreographer for Syracuse Opera's recent presentation of "The Impresario," its first production since the COVID-19 pandemic began.
In that dual role, Mr. Mockovak collaborated with SUNY Distinguished Teaching Professor Julie Newell of the School of Music, interim general manager of Syracuse Opera, and Fredonia alumnus Wayne Murphy Jr., scenic and lighting designer, who received a B.F.A. in Theatre Production and Design from Fredonia in 2020, on the conceptual look of the opera.
Mozart's "The Impresario," performed Oct. 29-31, is the story of a theatre producer, beset by waning popularity and finances, who attempts to mount one more successful production in the face of challenging odds.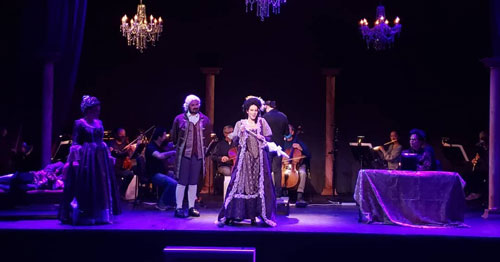 The musical score was delightful as the two dueling divas 'sing it out,'" Mr. Mockovak said. "The libretto is challenging in keeping the information flowing to the audience but in a bright and lively manner. This allows for a heightened style with a great deal of physical comedy both subtle and more broad. This is one of my favorite types of theatre so I was very excited to work with the cast."
As interim managing director, Ms. Newell selected "The Impresario" as the first fully staged work for the company, coming out of COVID-19, as the storyline speaks directly to the very significant challenges of an opera producer.
"It is hysterical as it totally pokes fun at the business of making opera happen. Every audience member could easily understand the storyline given the modern challenges of bringing arts back to live audiences – but above and beyond this – the desire of the Impresario himself, named Mr. Scruples, is something which anyone with a job, of any kind, understands," remarked Newell, who has been affiliated with Syracuse Opera for 37 years.
The five performers – which included two sopranos, one tenor and one baritone – were also fine actors, Mockovak noted, "so there was wonderful clarity in what they were saying with their lines or singing with the text." There was one non-singing role for whom the opera is titled, Mockovak added, and he was brilliant.
"To my delight they all had a great sense of comedy and timing. It made rehearsals a joy and we were able to expand on what they brought of themselves to the characters," Mockovak added.
Syracuse Opera Musical and Artistic Director and Conductor Christian Capocaccio assembled the singing and acting cast.