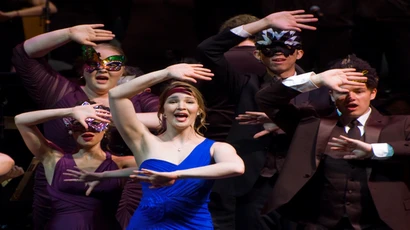 Covid-19 Protocols for Theatrical Productions
The health and safety of our students, patrons, staff and performers is of utmost importance. The regulations on this page have been put in place with that goal in mind. Please familiarize yourself with these regulations. Your cooperation and understanding is appreciated.
Effective March 4, 2022, the wearing of masks is now optional in Rockefeller Arts Center for fully vaccinated and boosted individuals. However, SUNY Fredonia strongly recommends masks indoors for anyone who is not fully vaccinated and boosted. Individuals who are completing isolation or quarantine MUST still wear a mask, per New York State Department of Health guidelines.
We strongly encourage all visitors** to campus to be vaccinated. For the most up-to-date information regarding Covid-19 policies as they pertain to attendance at public events in Rockefeller Arts Center, please return to this page.
Please keep in mind that policies may change on short notice. We recommend that you inquire about Covid restrictions at the time of ticket purchase and once again shorty before your attendance at any event.
If, on the day of the event, you do not feel well, have any symptoms of Covid-19, or have recently been exposed to someone who is ill, please stay home and contact your health care provider. For ticketed events, contact the Campus Ticket Office at 716-673-3501 or tickets@fredonia.edu at least two hours before the time and date printed on your ticket to arrange for an exchange or a house credit for future use.
* "Fully vaccinated" means it has been at least a two full weeks since your second or final dose.
** A visitor is anyone who is not an enrolled student or a member of the faculty and staff.