Power of language is focus of next Marion gallery exhibition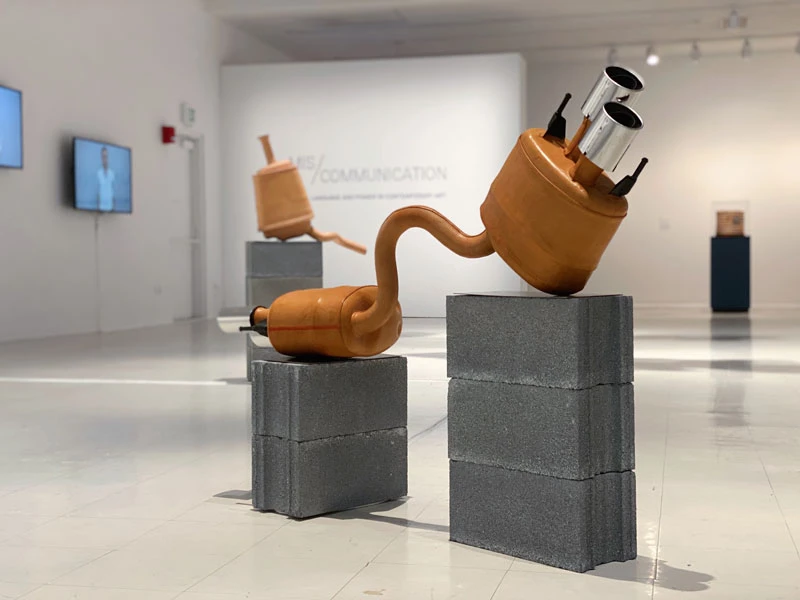 An exhibition looking at the power of language will be on display beginning Feb. 28 in the Cathy and Jesse Marion Art Gallery at SUNY Fredonia.
"Mis/Communication: Language and Power in Contemporary Art" runs through April 16. The exhibition features video, sculpture, print, performance, and interactive media artworks by 14 contemporary artists who explore the power of language in a cultural context.
Participating artist Dahn Gim will present a Visiting Artist Program lecture about her work at 4 p.m. on Friday, March 31 in McEwen Hall Room 209.
The lecture and exhibition are free and open to the public.
The artists in "Mis/Communication" examine issues such as the global predominance of English; the colonial violence of European languages in the global south; and the societal tendency to censure other languages, dialects and linguistic practices.
They consider spoken and written language as defined by national or cultural linguistic traditions like Korean, Spanish and Portuguese and indigenous languages like Bété and Marra, as well as American Sign Language, performative body language, "academic speak," and automated speech recognition systems.
Participating artists are: Frédéric Bruly Bouabré, Jesse Chun, Jisoo Chung, Angelina Joshua and Jake Duczynski, Dahn Gim, Dulce Soledad Ibarra, Christine Sun Kim and Thomas Mader, Benjamin Lundberg Torres Sánchez, Kim Schoen, Martine Syms, Clarissa Tossin and Han Yohan.
Han Yohan's "Phallo Me" addresses the underlying power dynamics of English as a Second Language (ESL) programs in the United States and abroad. Assimilation as represented through language is further explored in a few series; Gim's "Names I Had You Call Me" speaks to an acquiescent concession to the dominant language through self-naming, while works by Frédéric Bruly Bouabré, Angelina Joshua, and Jake Duczynski point to a more violent, colonial history of the erasure of indigenous languages in the "Côte d'Ivoire and Australia."
Clarissa Tossin's "Vogais Portuguesas/Portuguese Vowels," a series of sugar sculptures molded from the interior of the artist's mouth, and Benjamin Lundberg Torres Sánchez's performance "A Lengua for Mi Boca" speak to the forced language assimilation of the indigenous populations in South America. Dulce Soledad Ibarra's "9th to Olympic [JUNTOS]" interrogates the colonial history of the piñata while uncovering its collective resonance for the Mexican diaspora in Los Angeles.
In score for unlanguaging, Jesse Chun misuses English letter stencils transforming the text into glyph-like abstractions. Christine Sun Kim and Thomas Mader's "Tables and Windows" challenges the privileging of the spoken word. Kim Schoen's "The Horseshoe Effect" and Martine Syms' "Notes on Gesture" point to the types of speech and gesture that are required for professional and scholarly success. In Jisoo Chung's video "Museum Manners for Siri," the artist narrates into her iPhone—using an accented English, her second language—while Siri transcribes these dictations in comical and mystifying ways.
"Mis/Communication" originated at Stony Brook University's Paul Zuccaire Gallery and is curated by Amy Kahng, a Ph.D. student in art history at SBU. The exhibition is the 2020 winner of the SUNY Prize for Performing Arts, Creation and Curation.
Marion Art Gallery hours are: Tuesday through Thursday from noon to 4 p.m., Friday and Saturday from noon to 6 p.m. and Sunday from noon to 4 p.m. The gallery will be open during spring break. It is located on the main level of Rockefeller Arts Center on the Fredonia campus.
For more information about the exhibition or to schedule a group tour, contact Director Barbara Räcker via email or call 716-673-4897. Funding for the exhibition and reception is provided by the Cathy and Jesse Marion Endowment Fund, established through the Fredonia College Foundation, and The Friends of Rockefeller Arts Center.