Preddie receives Fredonia's first EOP student excellence award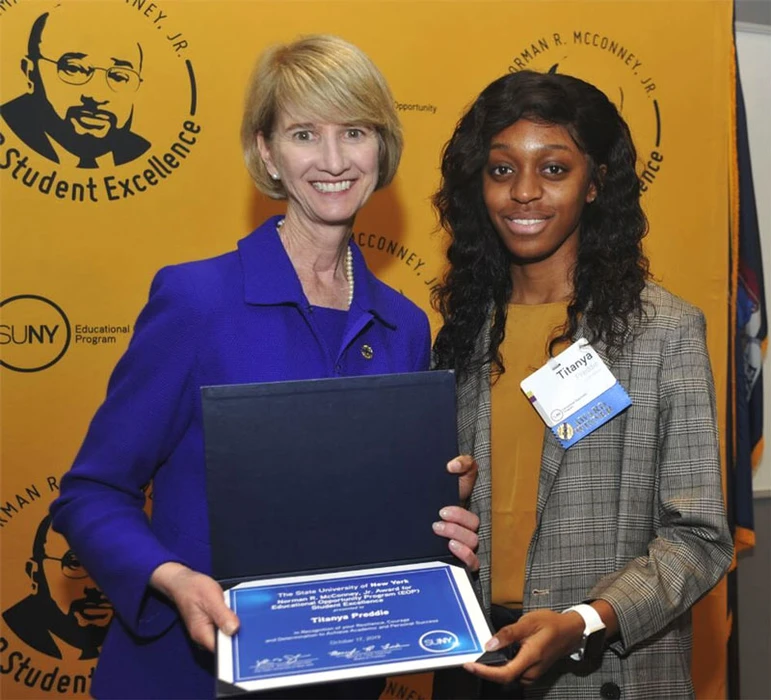 Titanya Preddie, a senior Communication: Video Production major from Brooklyn, has etched her name in Fredonia history as its first recipient of the Norman R. McConney Jr. Award for EOP Student Excellence.
The new SUNY-wide award recognizes outstanding Educational Opportunity Program students for academic achievements. It is named after Mr. McConney, who played a key role in advancing legislation that created statewide initiatives, including SUNY's EOP, to address the needs of economically disadvantaged and underrepresented New York residents.
Ms. Preddie was among 42 SUNY students recognized at the awards ceremony and reception held on Oct. 17 at the SUNY Global Center in Manhattan. She was accompanied by two sisters, Jennifer and Latoya.
SUNY Chancellor Kristina M. Johnson and Cesar Perales, vice chair of the SUNY Board of Trustees, welcomed recipients and guests and offered remarks. New York State Assembly Speaker Carl Heastie delivered the keynote address. Latishe Thorpe, an EOP student from Dutchess Community College, was the student speaker.
Preddie, who also has a minor in African American Studies, has been named to the Dean's List, studied abroad in the Netherlands and worked as a Jewel peer advisor in Fredonia's Educational Development Program (EDP), the campus' Educational Opportunity Program.