Science students shine at ACS research symposium
With one student receiving a first place award and three others delivering poster presentations, the Department of Chemistry and Biochemistry was well represented at the Western New York section of the American Chemical Society's 12th annual Undergraduate Research Symposium, held April 27 at D'Youville College.
Alexander Green, a senior Chemistry major, was awarded first place in Oral Presentation for his work, "Synthesis and Characterization of a Novel Nitrosamine, an NO and HNO Donor." Mr. Green has enrolled in a Ph.D. program this fall at Colorado State University.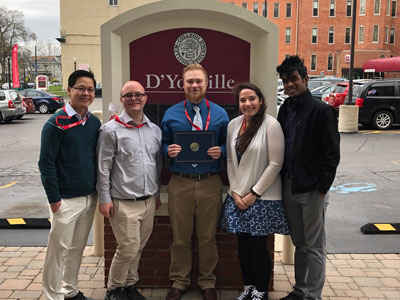 Swar Dakein, a sophomore Biochemistry major, presented his research, "Synthesis of Sulfur-Boron Frustrated Lewis Pair." Jonathan DeMaria, a sophomore Chemistry major, presented his study, "Synthesis and Characterization of Biomimetic Copper Complexes." Kaycie Malyk, a junior Chemistry major, whose research was conducted under the tutelage of Dr. Mark Janik, presented "Synthesis and Characterization of Modified Anticancer Chalcone Analogues," which have anti-cancer properties.
Mr. DeMaria and Ms. Malyk have received competitive National Science Foundation Research Experience for Undergraduates Program (NSF-REU) grants for summer study, while Mr. Dakein landed an internship in SUNY Distinguished Professor John Richard's laboratory at the University at Buffalo. Dr. Richard is a multi-award winning researcher and is at the top of the field in enzyme chemistry.
Dakein, DeMaria and Green serve in the research lab of Dr. Allan Jay Cardenas; Malyk serves in Dr. Janik's lab.
The symposium was attended by students and faculty from 12 institutions and featured talks and posters on a wide range of research topics.